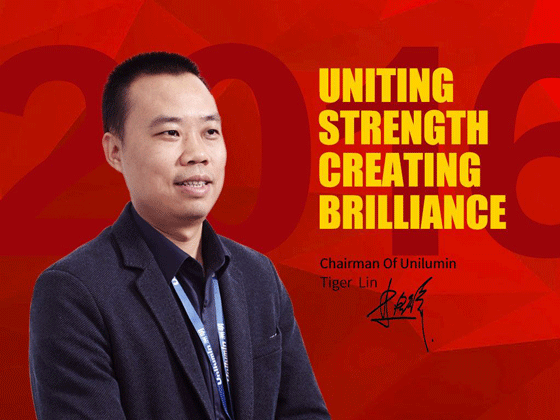 Time flies, 2015 will soon become history, 2016 is coming. In this New Year's time, I would like to express on behalf of the company to express deepest gratitude in Unilumin people in all parts of the world! Special thanks also to our customers, partners, shareholders and all the community leaders and friends who concern and support on the growth of Unilumin. Wishing everyone happiness, good health, success and prosperity in this New Year.

2015 was the first year of the second decade of Unilumin strategic layout. In this important first year, Unilumin made a good momentum of development using our own efforts and wisdom. In 2015, a lot of downward pressure throughout the China economy weakening the business development, but we are contrarian growth and achieved greater business growth. Our stock market value hit new high and has been recognized and affirmed by capital market. Furthermore, we also successful implemented the Employee Stock Ownership Plan. Through acquisition of 40% stake of ROE, making it thus became a wholly owned subsidiary of Unilumin. The company launched the non-public offering of shares with total 510 million RMB, refilling new energy for the giant development of Unilumin in 2016. Standing at a new starting point, we have more firm confidence to achieve greater goals and to meet greater challenges.
In 2015, our lighting division also has faced a new development stage. In outdoor lighting market, we have acquired major market share of the demonstrative projects in first and second tier cities, which has established Unilumin's leading position in street lighting. The new street lighting product—Shark Series enjoys great popularity in Sweden, Italy and other Europe countries. In indoor lighting market, we have approved the appraisal and inspection of The HOME DEPOT, the largest household building materials retail chain store in USA. It symbolized that Unilumin is qualified for providing lighting products to international first class retail stores and laid a solid foundation for the future business development. Our O2O internet strategy has been carried out and received perceptible outcome so far. In this challenging and intense competing lighting industry, Unilumin has grown to a strong company with both wisdom and endurance. We hold the belief that we can get larger success.
In 2015, even under the intense competition situation in LED display industry, our display division still has created brilliance. We have created the tallest outdoor LED display in Asia—3363sqm in MOI building, which has become the new landmark of Chongqing city. Also, our product invention and design has been acknowledged by the world. The Black Onyx display product of ROE has been honored with the German IF Award and the Red Dot Award. It was another significant breakthrough after we have won the China Red Star Award, the Japan G-mark Award and the Asia's most influential Award.

Hard-working with passion and sweat made who we are now, while rationality and will of fighting decide who we will be in the future. Extending to 2016, Unilumin would have grown up a year old, it makes us face the future with more mature. We not only have the strategic direction but also have its way. The valuable point for us compared with competitors is that we dare to think and act. Lots of good ideas have been come up with by us in the past ten years. Today, the great promotion is that we have both good ideas and the ability to realize them. Fortunately, we own the awareness to see more future, deeper and clearer than our competitors. As we were trying our best to accomplish basic industry, we have made the three-dimensional development strategy: "Industry+Finance+Internet" to support it. On the industry aspect, we are going to transfer from traditional manufacturing enterprise to service-type enterprise, the "User-centric" product and service concept, has been gotten into every single detail. On the financial aspect, extended development will be speeded up with the combination between industry and finance would give Unilumin wings to achieve a great career. On the internet aspect, we are under active investigation, taking full advantages of internet technology and organization patterns. Our goal is to steadily push ourselves a platform company with intelligent hardware, content service and e-business.
China economic growth pressure in 2016 may be greater than that in 2015. And the transformation and upgrading of traditional manufacturing industries will further accelerate. Therefore, many factories owners have complained that the market is too difficult for business development. While we don't put the blame on the market, we think the key is to do with it in an innovative way. Economic crisis is the best chance for the outstanding and fast-expanding company. In the next year, our company will increase more investment in product R&D talents and capital, to fully master the core of modern display technology. Through continuous innovation, more innovative products will be created and more excellent services will be offered to users. In the mean while, our company will increase the introduction of internet talents, combine with the Internet and develop an innovation and entrepreneurial company purely with Internet style, to expand the company's development boundary and raise our company to a higher level.
In 2016, network power and manufacturing power have become a China national strategy, industrial internet era is coming and we are facing the best opportunities now. In this era, our exploration and layout has been leading the industry, our products and manufacturing also achieved advantages of scale, we need to seize this golden opportunity and paying extra efforts. Efforts would be paid off, in 2016, a new journey has started, let us surmount, to scale new heights, let us set a clearer objective, to be more high morale, more solid execution to win a new era of glory and dream. Achieve our vision of DISPLAY A GLORIOUS WORLD, LIGHT UP A BRIGHT FUTURE!