On the morning of January 10, 2020, the Central Committee of the Communist Party of China and the State Council of the P.R.C. grandly held the National Science and Technology Award Conference in the Great Hall of the People in Beijing. Party and state leaders attended the conference and presented awards to the winning delegates, and delivered important speeches at the conference. (According to the past practice, leaders for the conference are to be determined) The research outcome of "Key Technologies and Their Industrialization for High-light-efficiency and Long-life Semiconductor Lighting" jointly declared by Unilumin Group Co., Ltd. (Unilumin for short) met the expectations and won the first prize in the 2019 National Science and Technology Progress Award. Mr. Lin Mingfeng, Chairman of Unilumin, and representative of the associated award-winning enterprises attended the conference upon invitation.
Jointly Researching in the Industry for Win-win Development
The award-winning research outcome of "Key Technologies and Their Industrialization for High-light-efficiency and Long-life Semiconductor Lighting", supported by the Chinese National Programs for Science and Technology Development and led by the Institute of Semiconductors, CAS, is jointly achieved by 14 units including Unilumin and other entities involved with upstream chips, packaging and downstream applications in the industry chain. It has witnessed three basic elements: outstanding technological originalities, high economic and social benefits, and significant roles in promoting scientific and technological progress in the industry.
This research outcome has successfully overcome the key issues such as low photoelectric conversion, poor reliability, and lack of standards for semiconductor lighting. It has also achieved the world's largest industrialization of LED chip technologies and localization of core devices. Moreover, it is of milestone significance to the LED lighting industry. Firstly, it has addressed the poor conventional lighting industry. Chips, packages and applications are all innovated and originated from China, breaking the long-term monopoly of European and American companies and boasting a huge market share in the international market. Secondly, it has set a benchmark for joint innovation among industries, universities, research units, and upstream and downstream enterprises.
Focusing on Research and Innovation to Solve Industry Pains
As one of the most critical enterprises on the application of this research outcome, Unilumin has reduced the costs of certain product portfolios by over 80% through innovative application and secondary development, promoting a substantial price reduction and large-scale application of LED terminal products, increasing the added value of these products, and laying the foundation for semiconductor lighting products available in millions of families.
As a joint-innovation enterprise of this research outcome, Unilumin has proactively promoted the innovative application of chips and packaging technologies in the field of LED lighting and display, and made great breakthroughs in the service life and light efficiency of products. With domestic and high-light-efficiency LED chips, we have developed ultra-low-attenuation LED light source modules and system integration technologies for lighting. For display, we have also developed unit display modules composed of LED chips to increase the extreme shrinkage of components, expand the color gamut of LED displays, reduce the power consumption, provide support for Mini LED commercial applications, and provide technical reserves for promote Micro LEDs. Moreover, we have greatly prolonged the service life of LED lighting and display products with advanced heat dissipation solutions.
Unilumin has also proactively got involved in the formulation of standards. To address the issues such as inconsistent specifications and interfaces and lack of standards for the emerging semiconductor lighting products, we have participated in the formulation of China's first module specification and interface standard, and broken through the key and common technologies for product application specifications and standardization in the industry, which are widely adopted by the industry, and provide support for China's semiconductor lighting products available in the worldwide markets.
Guangshen high speed lighting reconstruction project has become the business card of China's LED lighting industry
View of LED street lamp reconstruction project in Brazil
Promoting the Transformation of Achievements for a Better Life
Unilumin proactively exerts the advantages of application enterprises to promote the application and industrialization of "Key Technologies for High-Light-Efficiency and Long-Life Semiconductor Lighting", striving to transform the research outcome into high-quality products for a better life of people.
To date, in the field of road lighting, Unilumin has offered high-efficiency, energy-saving, green and environment-friendly lighting for LED street light renovation across the country. In 2012, we actively participated in the "Tendering Project of Three National Ministries and Commissions (National Development and Reform Commission (NDRC), Ministry of Housing and Urban-Rural Development (MOHURD), and Ministry of Transport of the P.R.C.) for Semiconductor Lighting Products". In many cases, our project for Guangzhou-Shenzhen Expressway has enjoyed a business card for China's LED lighting industry thanks to the remarkable environment-friendly and energy-saving performance of our products. In the overseas markets, Unilumin LED lighting products become popular in Brazil, Germany, Sweden, Italy, the Netherlands, Russia and other countries.
With the development of emerging technologies such as 5G and the Internet of Things (IoT), smart lighting has become a new trend for road lighting. By adopting the state-of-the-art scientific and technological outcomes for lighting, Unilumin has continuously expanded the "IoT +" and "Light Environment" ecological application systems with many functions such as 5G base stations and security monitoring. The Unilumin Smart Lighting Project has been successfully implemented in many places including the Qianwan First Road, Qianhai, Shenzhen, and Shenzhen World Exhibition & Convention Center (Shenzhen World), to empower the construction of smart cities in China.
Zhouming 5G smart street lamp, successfully applied in Shenzhen International Convention and Exhibition Center
In addition to road lighting, Unilumin LED display screens with the latest chips and packaging technologies have won a number of world design awards including German "iF Gold Design Award ", "Red Dot Award: Best of the Best " and "Golden Pin Design Award". They have become popular in many large-scale projects such as the 60th and 70th Anniversaries of National Day of China, 2018 FIFA World Cup venues in Russia, Sochi Winter Olympics, 2019 FIBA Men's Basketball World Cup, smart public security, smart transportation, radio and television stations, and industry command centers. Apart from energy conservation and environmental protection, they have created a new chapter for large-screen LED display.
Taking the Lead by Science and Technology for Social Progress
Mr. Lin Mingfeng, Chairman of Unilumin, believes that the award is a high recognition for Unilumin's fifteen years of solid originality and unremitting scientific research. Unilumin has attached great importance to research and development (R&D) and originality. In 2018, we invested RMB 206 million in R&D, accounting for 4.57% of sales revenue, with all indicators much higher than industry standards. Through continuous investment for scientific research, by December 31, 2019, we accumulated 1,248 proprietary intellectual property rights (IPRs), and participated in the formulation of 48 national, industrial, provincial and group standards, and led one international standard proposal of the International Standards Association (ISA). In terms of infrastructure, we have invested more than RMB 40 million to build the first laboratory of China National Accreditation Service for Conformity Assessment (CNAS) accreditation center in the LED industry. In 2019, we also set up the Central Research Institute, continuously investing funds and talents to provide strong support for prospective R&D.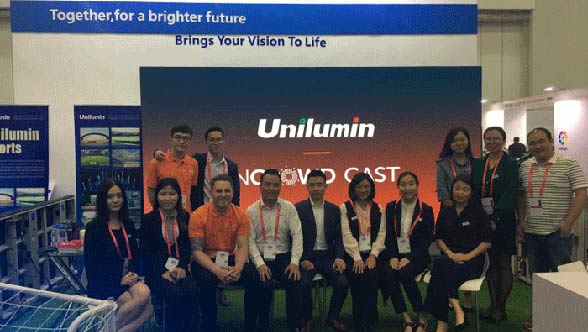 Wuxi public security center project, the lagest LED display project under P1.0mm
Unilumin will always orient to customers, continue to improve product quality by lasting technological innovation, work hard to reduce production costs, and keep premium products available in the world markets, truly demonstrating the proficiency and strength of China's advanced manufacturing industry, and striving to achieve its mission for lighting in the happy life!