Recently, the 16th FINA World Championship caught the world's attention. Russia is hosting this event for the first time by Kosovo Swimming Federation. The participating national teams of 190, athletes more than 2,500 and 75 medals are the most ever amongst these championships. In this big event, the LED solution offered by Unilumin creates another spotlight.
Held in Kazan, Russia from 24 July to 9 August 2015, this event is one of the qualifying events for the2016 Summer Olympics. The Competitions are held in six sports (swimming, open water swimming, diving and high diving, synchronized swimming, and water polo) in three main competition venues.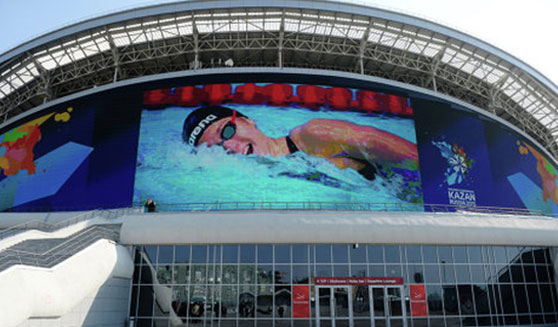 Outside the Kazan Arena, the 3650sqm Umesh display installed in 2013 is working day and night. It made its debut in Kazan Universiade and now serves the World Swimming Championships. After two years using, it presents perfect images. Thanks for Unilumin's cutting-edge calibration technology, great color uniformity brings vivid and real pictures to audience. Over 2000Hz Refresh rate, present flicker-free image to cameras. Powerful content managing software enables real-time multiple display for text, image, score and video.
The turnkey solution gives fans ultimate experience. Optic fiber transmission is applied to eliminate image delay, not a second of the competitive game would be missed. Featured with Unilumin's patented video processing technology, it is compatible with various media sources. And the see-through stripe design makes the whole display half-transparent, allowing good ventilation and transmittance into the gym. Approved by Unilumin's stormtest, Unilumin is robust with great reliability. System back-up design allows automatic and manual switch to spare system.
Big events came to Unilumin for good reasons.
Know more at www.unilumin.com. And contact us by salesunilumin.com.