Integrated Systems Russia 2015 was held in Expocenter, Pavilion №1 and Forum, Moscow, Russia from October 28 to 30. As the biggest international show for professional AV and system integration in Russia and CIS countries, ISR 2015 attracted customers from all over the world.
Unilumin, a global leading LED display manufactor and solution provider showcased its latest LED displays at ISR 2015.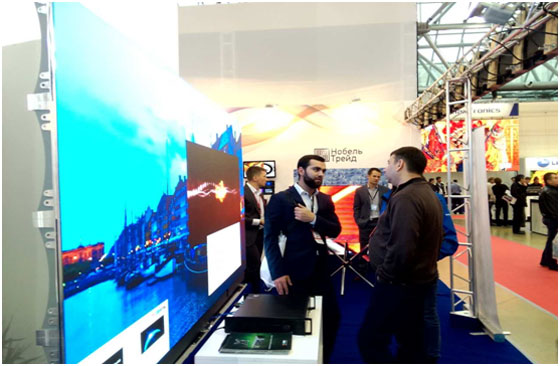 Unilumin cooperated with our client and showcased Utile series、Ustorm series and Upanel series LED displays at ISR2015.
1.Utile series LED display
With the emergence of the first 500*500 die-casing aluminum cabinet, Unilumin Utile introduced the new standardized cabinet to the rental industry. It featured slim and light cabinet design, easy for installation and dismounting, tool-free installation, one person can install up to 60 cabinets per hour on average. Unilumin Utile series, brought you into a visual realm of vivid colors. Super light weight design saved you cost of installation and transportation.
2. Ustorm series LED display
Unilumin showcased state-of-the-art outdoor media LED product-Ustorm at the ISR 2015. The most advanced features for Ustorm were energy-saving and cost-saving. It was slim and light, weight was only 35.9kg/㎡,thickness of 95mm, 50% slimmer compared to traditional displays, saved the transportation and construction cost. It reached 10,000 nits, max power consumption was only 333W/㎡,average power consumption was 111W/㎡,saved up to 50% power compared to traditional displays. Its smart cabinet and fully waterproof module design were able to withstand all kinds of weathers.
3. Upanel series LED display
Unilumin Upanel series LED displays featured 2K(1920×1080) resolution, the world's first bezel-free UHD LED products. Unique 16:9 aspect ratio made it easy to be assembled to standard 2K dot-to-dot LED Video Wall. It featured ultimate visual performance with high grey scale, high refresh rate, wide color range, excellent color uniformity and strong stability.
Customers at ISR 2015 spoke highly of Unilumin and gave us lots of good suggestions. Unilumin will continuously focus on R&D of LED display and provide high-quality products for our customers.
See you next year at ISR2016.