In 2004,Unilumin broke into China LED industry with unconventional technical route.Since established, the company has insisted on innovating development train andgradual introduced competitive products including Upad series ultra - light andultra - thin rental LED display, UFix series fixed advertising LED display,USphere series creative spherical-shaped LED display, UTV series small pitchLED display and UMesh series light transmission LED display. In 2011, with 7years development, Unilumin was successfully listed on GEM which deeplyimpressed on Chinese LED industry again. The "secret weapon" ofUnilumin is technological innovation.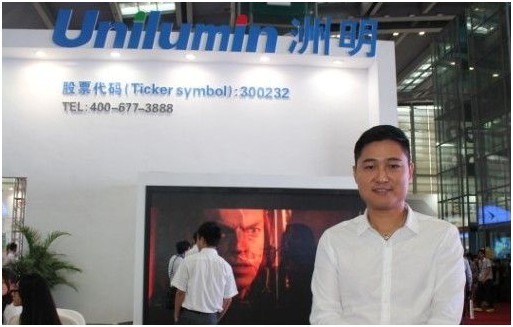 Mr. Wu Meng LED Display Marketing Director of Unilumin
Disruptive Innovations, Strict Quality Control
Looking back, China LED display industry has beendeveloped from the limited situation of introducing foreign technology withcedeing market to "Made in China" enjoys a high reputation both at home andabroad. The achievement is inseparable from China enterprises' efforts oncontinuous innovation. The achievements of Unilumin on innovative applicationare for all to see which also laid a solid market position for the company.
Mr Wu Meng, the LED display marketing director ofUnilumin, pointed out to adapt to the market development, the enterprise mustbe constantly improving the ability of innovative research and development.Unilumin always attaches great importance to developing new products andtechnology.
Unilumin believes that good quality means bestreputation. According to the introduction of Mr. Wu Meng, there are three gatesof the company to guarantee the products quality. The first is technicalsupport. Unilumin has an experienced R&D team with more than 130 qualifiedstaff and technic. Unilumin is based on technology innovation and continuouslyto develop new products. The company also employs industrial experts astechnical advisers. Solid technical strength makes Unilumin hold the sate leadin the same trade. The second is excellent technique and advanced productionlines. The third is perfect after-service network. At present, Unilumin hasestablished more 100 radiation of sale network with services covering the wholecountry.
Focuse On Segmentation Market Unilumin UMesh LED DisplayExported to Overseas
Thanks to the rapid development of the LED displaytechnology, the fall in prices of LED components and more and more matureexperience in producing, the prices of LED display has been obviously decreasedin recent years. Under the condition of intensifying market competition, facingthe market of product homogeneity, how to grasp the trend of the market andsatisfy the demands of the market are the questions pondered by eachenterprise. The answer from Unilumin is focusing on segmentation market.
Till now, Unilumin has taken the leap onto segmentationincluding rental, small pitch and new products market.
Take mesh LED display for example, Unilumin UMesh seriesLED display is launched targeting on LED display application of marketsegmentation. It has features of front/rear maintenance, ultra-thin &ultra-light hollow out design, high light transmittance and good windresistance. It can reduce the bending force on steel frames so as to lower thestrength standards for steel frames the and save cost. With the above features,it is hope that the mesh LED display will replace traditional display, printingand tri-vision display. The typicalUmesh25 LED mesh display is designed with 40% transparency rate which cansatisfies the air and light through requirements. Further more with high IPgrade, this series product adapts to be used under outdoor bad conditions.
Unilumin is continuously making right strategic distributionin thesegmentation market of LED display. Mr. Wu Meng said for LED rentaldisplay market, Unilumin has developed UTile and UPad series LED displays. Thestandard products can greatly reduce the production cost. With favourable and competitive price, these two series productsrapidly occupied low-and-middle rental market.
With rich experience on indoor LED display applicationand powerful technical strength, Unilumin launched UTV series LED display.Depends on excellent performance, the small pitch UTV2.5 has become therepresentative product of HD small pitch LED display. Compared with traditionalDLP, LCD and projection display, UTV, the new indoor display, has many uniqueadvantages, such as perfect seamless appearance, low brightness while high graylevel and high refresh rate with 6400HZ etc. This new products will bring newopportunities for indoor LED display market. As estimated, there will be over30% growth for the existing indoor LED display market.
The Industry Shuffle Will Continue
Recently, many LED display enterprises closed down due toserious cash - flow problems. Mr. W Meng said actually there are 50 to 60 LEDenterprises company nearly collapsed in Shenzhen city every year.
At the same there are many new enterprises entering intoLED field every year. However due to product homogeneity and technicalsimilarity, most SMEs has no core competitiveness. Mr. Wu Meng said these smallsize enterprises will be be driven out of the market sooner or later. Moreover,the shuffle will be continue. Large scale manufactures will get more and moreLED display orders. In the future, China's LED industry will create a situationthat large-scale enterprises dominate the market.
At the end of the interview, Mr. Wu Meng expressed forthe future development planning, Unilumin will focus on imprvoing occupationprobabilitys of segmentation market。Increase investment on technology reformation, research and development andinsist on building First Brand in Channel to seek long-term and sustainabledevelopment.