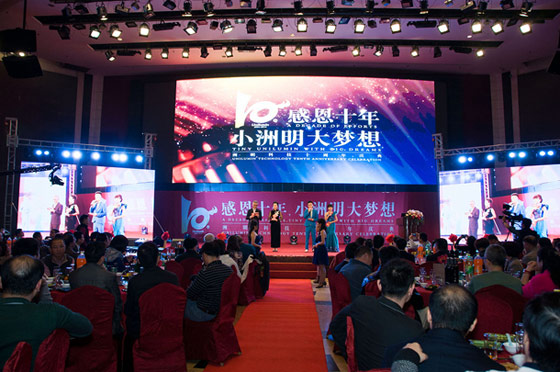 January 25, 2015, Unilumin held a 1800 people event in Kempinski Hotel Shenzhen, to celebrate its 10th Anniversary. The chairman of China Illuminating Engineering Society Xuhuai, the director of Guangdong Solid State Lighting Industry Innovation Center Gui Shirong, Samsung China General Manager Tang Guoqing , Unilumin customers, suppliers and employees participate in the event.
Theme of this event is "Tiny Unilumin, Big dreams", in the past 10 years, Unilumin has realized its dream to become the leading LED company in China, in the next 5 years, Unilumin will dedicate to building a world leading brand in LED display and lighting industry. "Display a glorious world and light up a happy life, Unilumin will follow this faith in the next 5 years", according to Tiger Lin, president of Unilumin Group.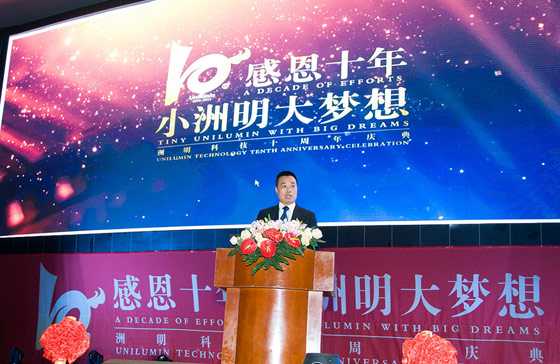 As appreciation to Unilumin suppliers, customers and employees, this event includes an award ceremony. "It is Unilumin's partners, employees who make Unilumin's success, you are Unilumin's dream maker, thank you and let's fullfill Unilumin's world brand dream together!", Said Tiger.

After the award ceremony, Unilumin international sales team performed a musical, and some singers are invited to perform at this event.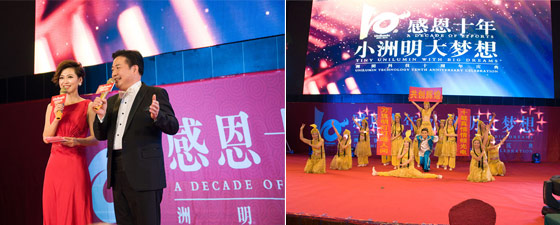 About Unilumin
Unilumin is one of the global leading LED manufacturers delivering turnkey LED display and LED lighting solutions with partners in 120 countries and regions. As a technical direction company, Unilumin developed world highest density 0.8mm bezel-free LED video wall system and glasses-free 3D LED video wall system. Unilumin has a global sales and support network with subsidiary in USA, China, offices in Holland, Hong Kong. Visit www.unilumin.com