ISE 2015, which is supposed to be the best-attended systems integration tradeshow ever held, begins in Amsterdam on February 10th. Unilumin showcases its 6K control room video wall system, 138" LED smart TV, retail video wall solution as well as 2mm rental display, creating the most immersive visual experience at this show.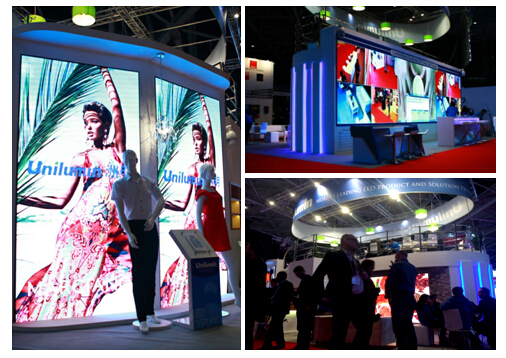 The 6K seamless video wall combines with cameras to create a monitor and command center environment, its processor features IOS and Android APP which enables input signal switching just on your mobile devices, ensuring an ease of control.
Another featured product is the newly developed Upanel 138" smart TV, this stand-alone huge TV boasts with multiple interfaces, enabling a rich extension devices such as Google TV, X-Box, tablets, etc., Upanel delivers 800cd/m2 brightness and a 3000:1 contrast ratio, 16 bit grey scale, 3840 Hz refresh rate and 168 degree viewing angle, becoming the best of the kind.
Unilumin also debuts its 4.8mm front access video wall solution for retail and public display usage where front service is a must for most cases, this display also features super slim cabinet design to save customer real estate space cost in a great way.
Unilumin stand this year is constructed with two layers, the first layer for hosting displays mentioned above, the upper layer for cocktail and leisure, "We hope to create a show for both business and networking with our partners, 2015 should be Unilumin's full year in the EMEA market," According to Unilumin onsite personnel.
About Unilumin
Unilumin is one of the global leading LED manufacturers delivering turnkey LED display and LED lighting solutions with partners in 100 countries and regions.
As a technical direction company, Unilumin obtained 260 patents and developed world highest density 0.8mm bezel-free LED video wall system and glasses-free 3D LED video wall system.
Unilumin has a global service network including subsidiary in USA, China, offices in Holland, Hong Kong, etc. Visit www.unilumin.com