On the afternoon of May 20, the third session of 13th National Committee of the CPPCC(Chinese People's Political Consultative Conference) held its first press conference. In order to prevent and control the epidemic, this conference adopts video interaction, and LED screens were applied in the press conference hall of the Great Hall of the People and the Medial Multi-function Hall respectively. Therefore, the conference spokesperson and media around world reporters successfully realized real-time interaction.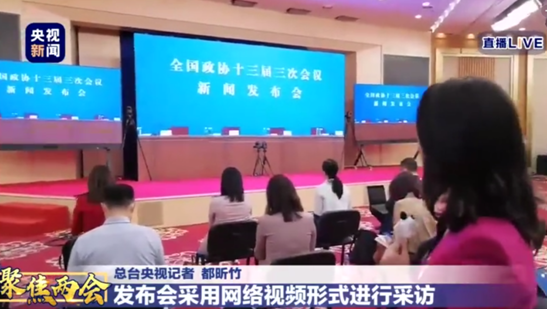 CCTV live screen of press conference of the 13th CPPCC National Committee

The screen chosen for this press conference is UMini display screen that has been released by Unilumin recently. As the latest generation of Mini LED, Unilumin UMini integrates cutting-edge video technologies such as IoT control, HDR imaging, 5G data transmission, auto-operation, and 8K retinal ultra-definition. It has good performance in display and stability.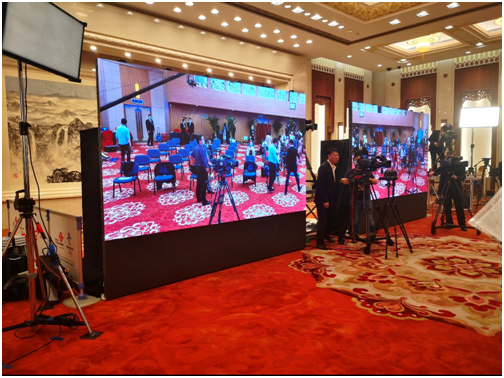 Unilumin large screen in the press room of the Great Hall of the People (Picture is from xinhua net)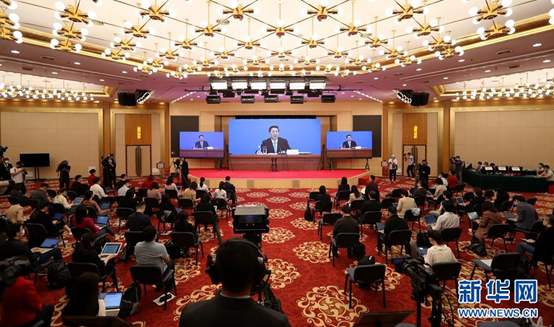 Unilumin displays in the Medial Multi-function Hall (Picture is from xinhua net)
As the information exchange medium of this press conference, Unilumin's UMini large screen combined with the use of fiber optic dedicated line and China Unicom's 5G dual backup data transmission mode to address the full scene, full-screen HD, and real-time display for the meeting, which has successfully created a new mode of 5G + 4K / 8K ultra-high-definition visual interaction.
Through the technology of Unilumin UMini 5G + 4K ultra-high-definition video acquisition, coding, transmission, display, and interactive technology, participants can view and quickly capture close-ups of reporters in real time to ensure the accurate communication of the press conference information; The media reporters in the hall can watch the high-definition picture of the press hall from any angle, so as to guarantee the timely and accurate transmission of news and information.
The success of this press conference is a result of the new model of 5G + 4K / 8K ultra-high-definition visual interactive conference jointly created by Unilumin and China Unicom, which not only strongly laid a solid foundation for the related activities of the coming conferences, and will also lead the new trend of news releases, program recordings and video conferences. Meanwhile, it will provide better choices for the major activities of governments, enterprises and institutions at all levels.
As the supplier of LED display and visual interaction solutions for this conference, Unilumin has been devoted to the protection and support of major political activities for more than ten years. In the following meeting period, Unilumin will consistently provide excellent display services and on-site guarantee for the conference and to ensure the success of the conference.