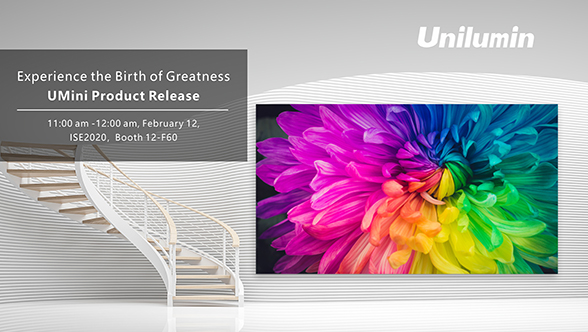 Integrated Systems Europe 2020 (ISE2020) is the largest exhibition for global audiovisual industry. As always, Unilumin brings its new technology to ISE. This time at Unilumin booth 12-F60, you will experience UMini product release and feel a new level of visual greatness on 162'' UMini integrator and 4K UMini-LED0.9. Both of the new products applied Unilumin's leading-edge Ultra Mini-led technology that is superior to other mini-led technologies in the market, and can achieve explosive resolution, product stability as well as energy efficiency.
Innovation creates possibilities. Unilumin's cutting-edge technology and products can always be found in industry-leading position. The Umini Series to be released at ISE2020 are breakthrough of Unilumin's long term research in multiple aspects of Mini-LED technology, from epitaxial growth, LED chip manufacturing, packaging technology to system integration. The result is Unilumin Umini is the most reliable Mini-LED solution in LED industry.
Thanks to Unilumin's Ultra Mini-LED technology, UMini achieves a new level of viewing experience powered by 20,000:1 contrast ratio, HDR picture refinement, and more, and presents your vision with an immersive experience that commands attention. UMini also excels in energy efficiency, high collision resistant, quick response time and wide viewing angle. The sets also boast 2,000 nits of brightness. That's brighter than today's OLED sets. Strong and impactful, the Umini product release is definitely a hot spot that you can't miss.
At Unilumin stand 12-F60, ISE2020 you can also get first-hand experience of Unilumin Super Pixel Pitch Product Family, such as 16K supper large screen. Unano with minimum pixel pitch record in the rental industry. And also UHF, the fine pixel pitch flexible screen solution that brings your creative ideas to reality.
Join us at ISE2020 and experience the greatness built with strong visual impact.