One Screen, One World
and One Lamp, One Youth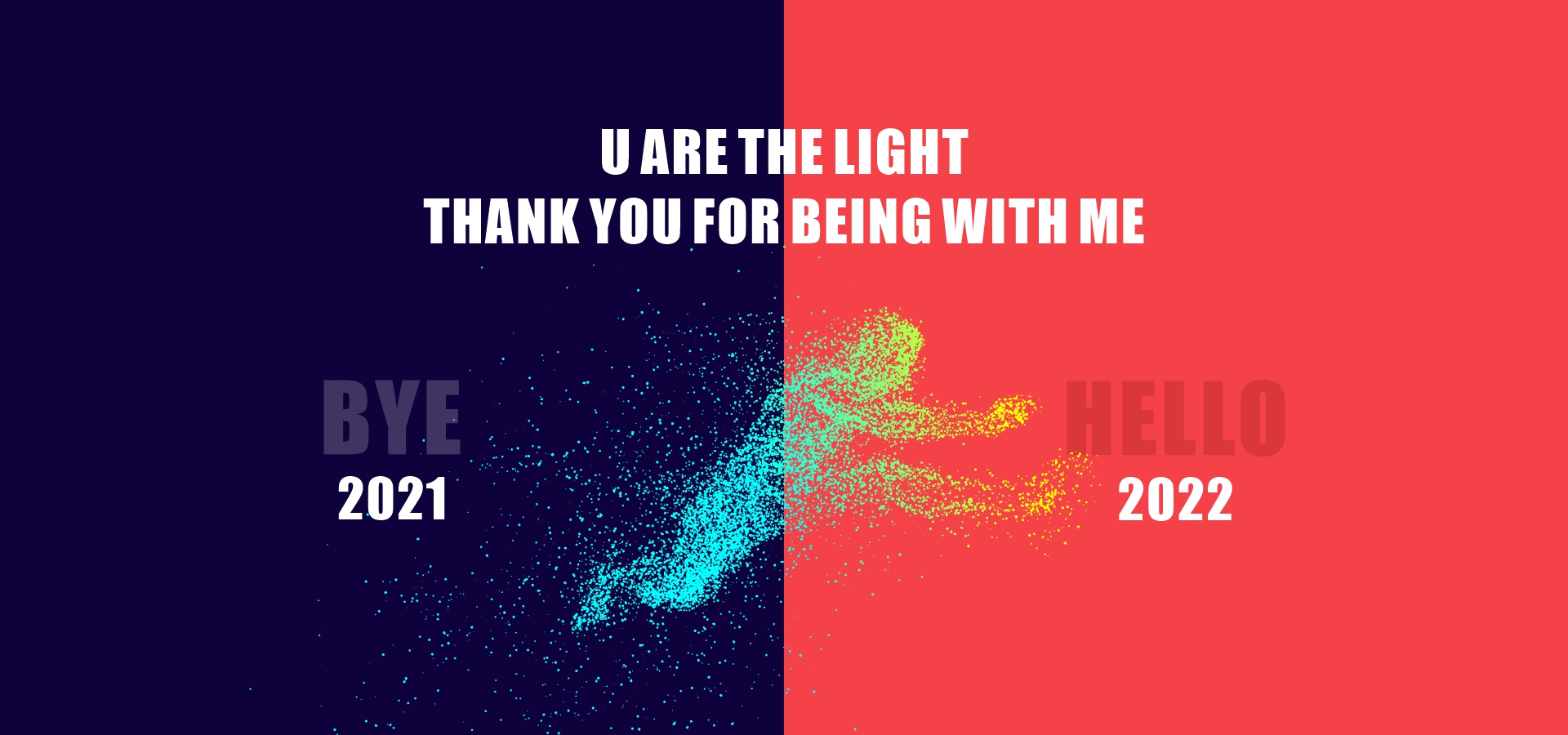 Colleagues all over the world,
Happy new year! Although we are meeting by screen, may it be as though we are meeting in person!
Although you and I are separated by thousands of miles, through a screen we can still meet face to face and talk heart to heart.
In 2021, we were still affected by the COVID-19 pandemic. Many industries and enterprises struggled. Many people suffered pain and loss. China adopted strict pandemic controls. The government has done a good job, and the medical staff have done their best. On this occasion, we would like to pay tribute to the medical staff and scientific researchers fighting in the forefront. We also thank the relevant government departments and wish the patients infected with COVID-19 a speedy recovery.
For Unilumin, 2021 was a year when we arrived at "another village with a brighter prospect." In the first half of the year, the rising price of raw materials and the shortage of supplies put us under great pressure. The situation improved in the second half of the year. We worked together to catch up and the company's operations gradually returned to normal. We fought a good fight in 2021!
Here, on behalf of the company's senior management team, I would like to thank all Unilumin staff across the world for their unity and concerted efforts!
In 2021, we celebrated the tenth anniversary of our successful listing on the Shenzhen Growth Enterprises Market. Over the past decade, we achieved ten-fold growth and the annual compound growth rate reached almost 30%. We should celebrate such achievements. However, we dare not be proud or stop advancing. The larger the scale of the enterprise, the greater its responsibility. Whether from the perspective of industry or society, we should play a greater role and create greater value for customers, industry and society.
We just learned that our company again won the "single champion of manufacturing industry" award issued by the Ministry of Industry and Information Technology of China. In the field of LED display screens, our company well deserves the title of "first in the world." Fortunately, we have prepared in advance for the coming explosive growth. In Daya Bay, Guangdong, construction of the world's largest LED intelligent manufacturing base has been completed and operation has begun.
Unfortunately, in many parts of the world, we have not yet been able to provide products and services. We have only just deployed a sales network abroad and have not been able to get to know our customers well and meet their needs in a timely fashion. This is where we can continue to improve in the future.
Looking ahead to the next decade, the world has entered the era of high-definition screens. The Internet of Everything and digital interaction have become characteristic of the times. LED light display products and solutions have become the interactive portal between the real world and the digital world. The rapid growth of new application markets such as 5G and 8K ultra-high definition video has created opportunities for the LED industry. Micro-pitch display is expected to achieve a staggering compound growth rate of 94% from 2020 to 2030, and the golden decade of mini LED display has just begun. The market size of the light&display industry will reach one trillion CNY. All this provides great opportunities for Unliumin's development.
In recent years, Unilumin Group and its high-end brand ROE have continued to make efforts in the field of xR virtual production, forming a strong first-mover advantage. Our xR solutions and service capabilities have won the approval of well-known customers such as Hengdian, Hollywood, Disney and Microsoft. Our share of the global virtual scene production market has consistently ranked first.
Such achievements have not come by accident. Over the past two years, repeated waves of COVID-19 resulting in restrictions on mass staffing and long-distance travel have caused great difficulties in the photography of film, television and commercials. In this context, Unilumin and ROE's xR virtual photography technology has developed rapidly. It not only solves the problem of outdoor photography, but also greatly reduces costs and greatly improves production efficiency.
The Era of Domestic Film Screens
We have been serving the film industry for a long time. In 2021 alone Unilumin won international DCI certification twice and achieved deployment of domestic LED film screens. This broke the foreign monopoly on China's CNY 100 billion cinema display market by manufacturers such as Samsung, Sony and LG, demonstrating the strength of Unilumin's leading technology.
The Window of the Bay Area
This year we also provided the largest outdoor high-definition screen in Asia for the Shenzhen Radio and Television building, with an area of 4,501 ㎡, in cooperation with Shenzhen Radio and Television. It is known as the Window of the Bay Area and has become another distinctive urban landmark in Shenzhen.
Empowering the Sports Industry
In 2021, we also joined with two new strategic partners: the Premier League Manchester City football team and the State Administration of Sports. This is a new starting point for us in the sports industry following our cooperation with FIBA in 2019.
We are the first enterprise in the LED industry to sign a contract with the State Administration of Sports in China and the first LED enterprise with the right to use the TEAM CHINA trademark. After the Tokyo Olympics held in 2021, we received a letter of thanks from the Chinese sports delegation, expressing its gratitude for Unilumin's support of the Chinese team during this period.
Our professional products and solutions have successfully contributed to the 2018 Russia World Cup, the 2012 London Olympics, the 2020 Tokyo Olympics and other top international sporting events. Next year, we will continue to contribute to the 2022 Beijing Winter Olympics, the Hangzhou Asian Games and other major events.
Integrated Light Display Solutions
An enterprise lives and prospers by innovation. At Unilumin, a group of innovative and enterprising people have gathered. Therefore, we are no longer satisfied with providing merely hardware, but will instead provide customers with integrated light-display solutions of "hardware, software, interactivity and content creation!"
Take the hot topic of "glasses-free 3D" in 2021 as an example. We not only provide a large HD display screen, but also can create glasses-free 3D content. Our glasses-free 3D project at the Chongqing Monument to the People's Liberation is a classic case of this. Throughout 2021, it has been a phenomenal scenic spot for residents and tourists alike, and was reported on by the mainstream media many times.
An example of our light display integration solutions in the foreign market is the "Riyadh Season" project we created for Saudi Arabia in October 2021. This was an unparalleled audio-visual feast, featuring more than 7000㎡ of display screens. All screens and the creative content, including glasses-free 3D content, was provided by Unilumin. This carnival season lasted for six months. Using "light and screen as a medium," it not only boosted the local economy but also won the praise of China's Ministry of Commerce, making China's science and technology world famous.
Energy Conservation and Emission Reduction
In recent years, balancing economic development and ecological culture has become a global challenge. To this end, the Chinese government has proposed a two-stage carbon emission reduction goal, referred to as "double carbon".
Unilumin has long been at the forefront of energy conservation and "double carbon." We have always been committed to the cause of environmental protection, with the purpose of "contributing to creating a green environment". For more than a decade we have been committed to the development of energy-saving LED technology. Hundreds of millions of Unilumin LED lighting products have been sold all over the world. Tens of thousands of energy-saving LED lighting projects have been successfully implemented in many countries and regions around the world, saving more than 20 billion kwh, saving more than 7 million tons of standard coal and reducing more than 20 million tons of carbon dioxide gas emissions.
Corporate Social Responsibility
While working hard to build a great company, we have not forgotten to fulfil our social responsibilities.
At the end of December, 2021, on behalf of the company's senior management team, I donated more than 10 million shares to Unilumin's Charity Foundation. My intention from the beginning has been to do charity work alongside Unilumin's staff, to act now and do our best. This is the best embodiment of Unilumin's value of "mindfulness and altruism."
"One screen shows one world, one lamp inspires one heart". We Unilumin people care a lot for the world in our customers' mind and their desires inside their hearts.
The light has never been never faraway, it shines everywhere.
The future of the light-display industry is very bright.
The struggle of 2021 will still be counted as a good memory.
The new year of 2022 is now coming at us.
Let's raise a toast in celebration of 2021's victories;
Let's look forward to welcoming 2022's challenges.
We wish for the early end of the pandemic and the health and safety of people all over the world.
In the new year, let our talent in the light display industry shine brightly everywhere just like light.
From Lin Ming Feng,Dec.31st,2021