Last week, the global audiovisual professionals had the opportunity to experience Unilumin's latest innovations at InfoComm 2021 held in Orlando, USA. With innovations including cutting-edge Mini LED technology, advanced XR solutions, groundbreaking outdoor fine pitch LED display, curved LED display, and several other leading solutions, attendees witnessed how Unilumin has brought the LED industry into a more visually dynamic and creative era.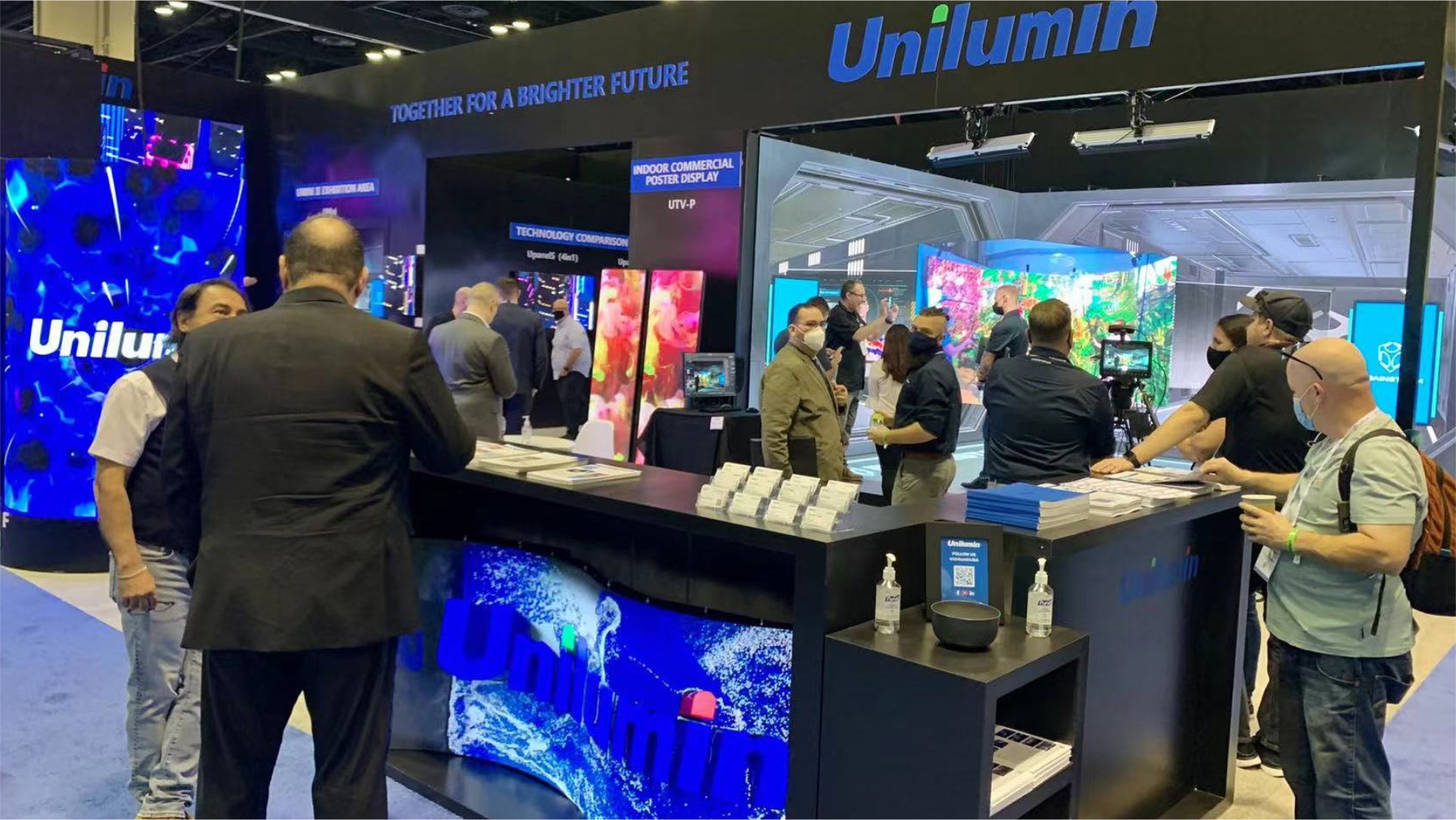 Mini LED Technology Delivering Stunning Visuals
Unilumin Mini LED technology represents the company's latest cutting-edge LED innovation. The industry-leading high contrast ratio of up to 40,000:1 and high brightness of up to 2,000nits offer ultra-high-definition image and deliver premium viewing experience to users, alongside the one-button remote control enabling quick operation in an unprecedented way. At InfoComm Unilumin showcased UMini series P0.7/0.9/1.2 and UpanelS series P0.9/1.2 LED displays powered by Mini LED technology that provides true-to-life colors and robust performance for different indoor applications, such as control room, broadcast room, boardroom, and many other mission-critical places.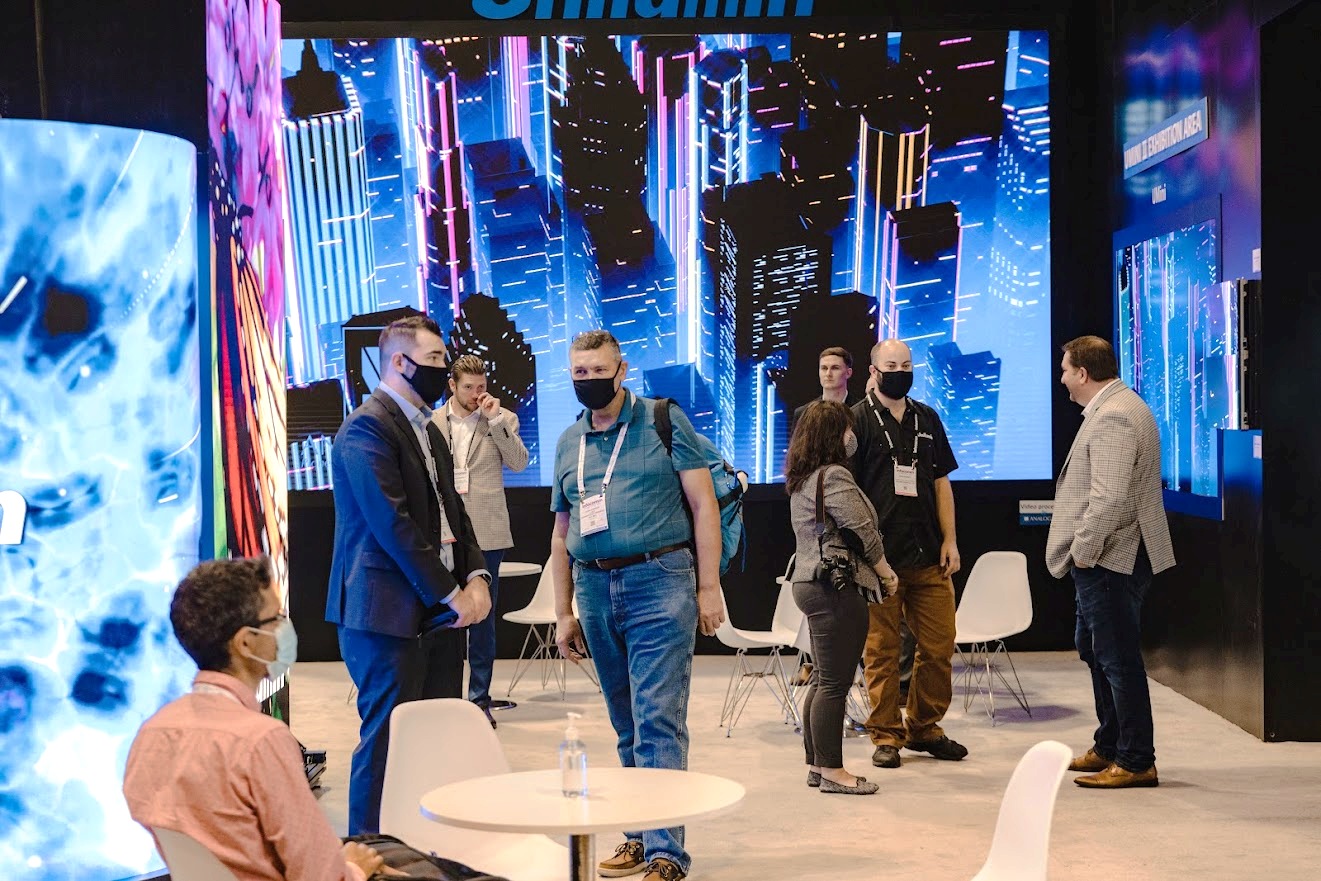 XR Solutions Empowering Filmmaking with Creativity, Efficiency and Flexibility
Unilumin's XR solutions solve one of the common challenges confronted by ads designers, content producers and filmmakers looking to utilize LED technology for their virtual production. Production teams can leverage Unilumin's in-camera LED virtual production solution offering exceptional color control and comprehensive manipulation via processing controllers, computer-generated imagery (CGI) and composites through game-engine and three-dimensional or visually compelling backgrounds to be reproduced in the LED walls that can offer immersive and fascinating shooting, all of it in real-time control. Unilumin showcased award-winning UpadIII series and UpadIV series LED displays that feature easy installation, high stability and concave and convex orientations that perfectly meet the aesthetical and technical demands of virtual production and filmmaking.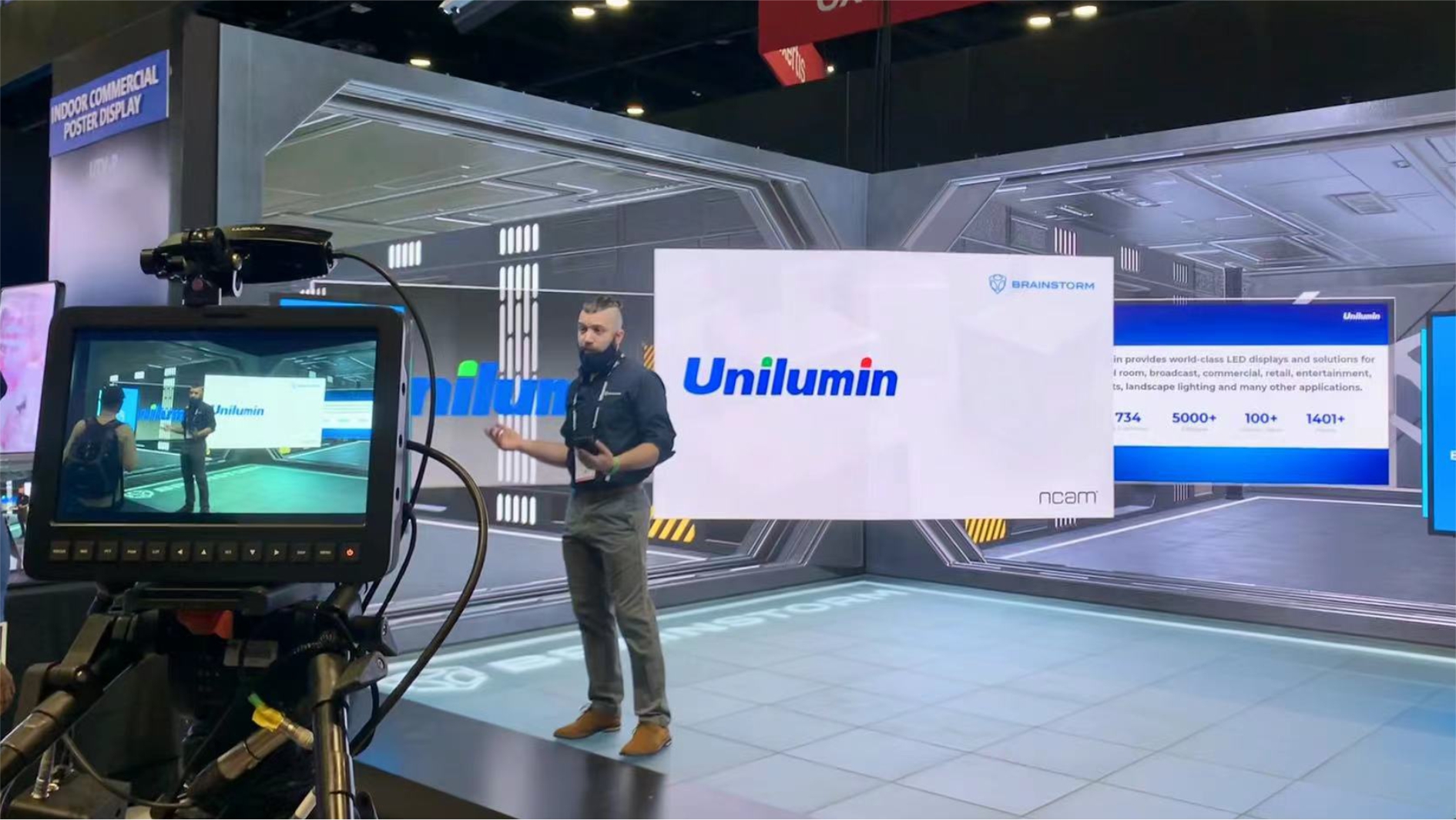 Fine Pitch LED Display Bringing Outdoor Media to Next Level
Also showcased at InfoComm 2021 was USH series, Unilumin's first fine pitch LED display specially made for outdoor media, especially high-end business districts. Available in pixel pitch 2.5 mm and 2.8 mm, it delivers crystal-clear image to ensure that advertised contents are visually perfectly presented to catch the attention of every passerby. With the groundbreaking IP69K protection and multiple installation styles including embedding, wall mounting, right-angle, concave and convex orientations, USH series offers extended durability and unlimited creativity in any outdoor environment, such as cold, heat, rain, snow, dust or even storm.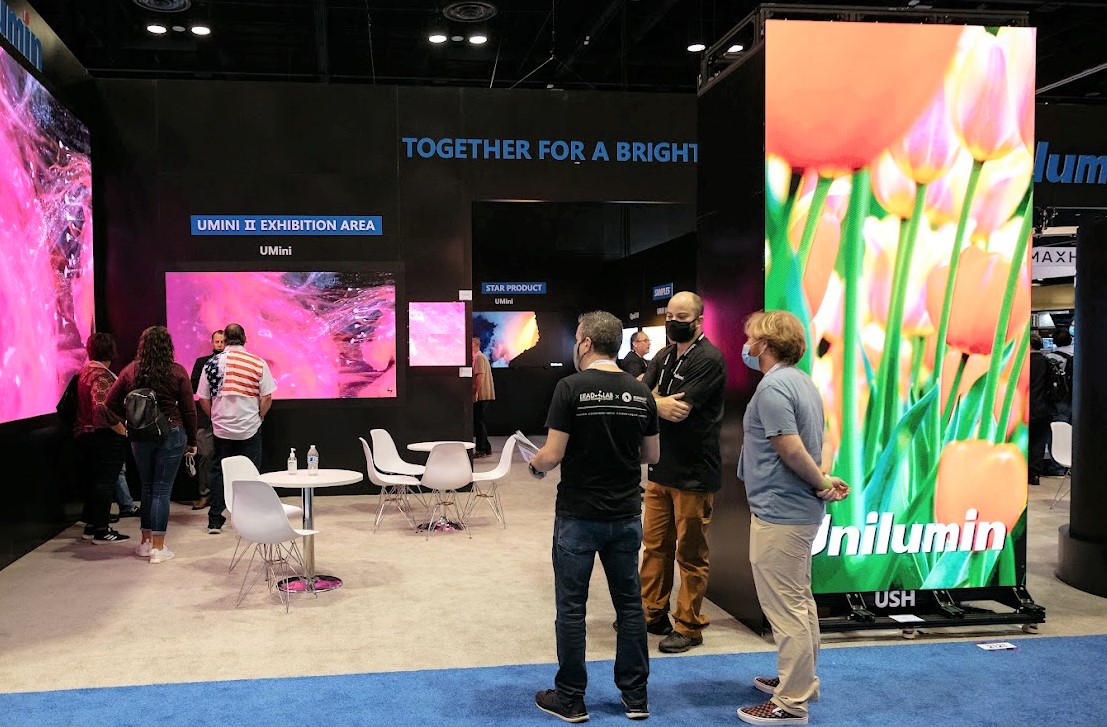 Curved LED Unlocking Enormous Design Flexibility
Featuring unlimited design possibilities, UHF series is built to meet the aesthetic expectations of many business owners and designers. Highly customizable, UHF series allows for various kinds of shape making including column, wave, right-angle, and concave and convex orientations that can naturally fit into all kinds of commercial and public spaces such as shopping malls, galleries and museums. Powered by the 4-in1 bar design and the use of aluminum as cabinet material, UHF series enables seamless and precise curving in its most robust quality.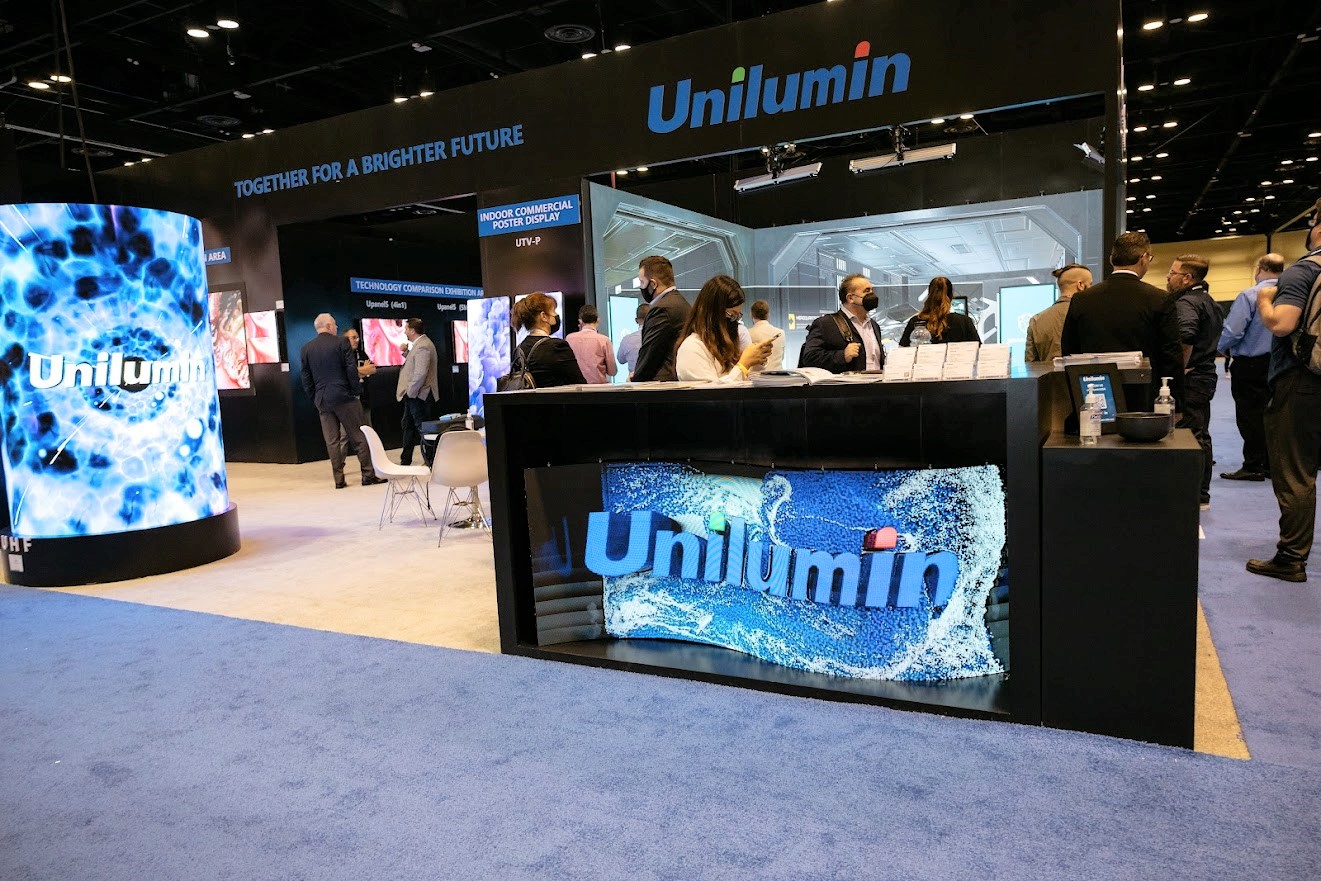 Standardized Cabinets Featuring Endless Creativity
As one of Unilumin's major indoor commercial LED displays, UslimII series is available in three standardized panel sizes, including 500x250 mm, 500x500 mm and 500x1000mm. The multiple options enable TV studios, showrooms, transportation hubs and many other entertainment and commercial spaces to deliver their values and message in a more flexible and creative way. With five pixel pitch options ranging from 1.5 mm to 3.9 mm, alongside the 155° wide viewing angle both vertically and horizontally, UslimII series ensures that any promotional content is easily seen by everyone in the space.
For more information about Unilumin's innovations showcased at InfoComm 2021 or if you are looking for a reliable LED solution, please send an email to us at sales@unilumin.com.