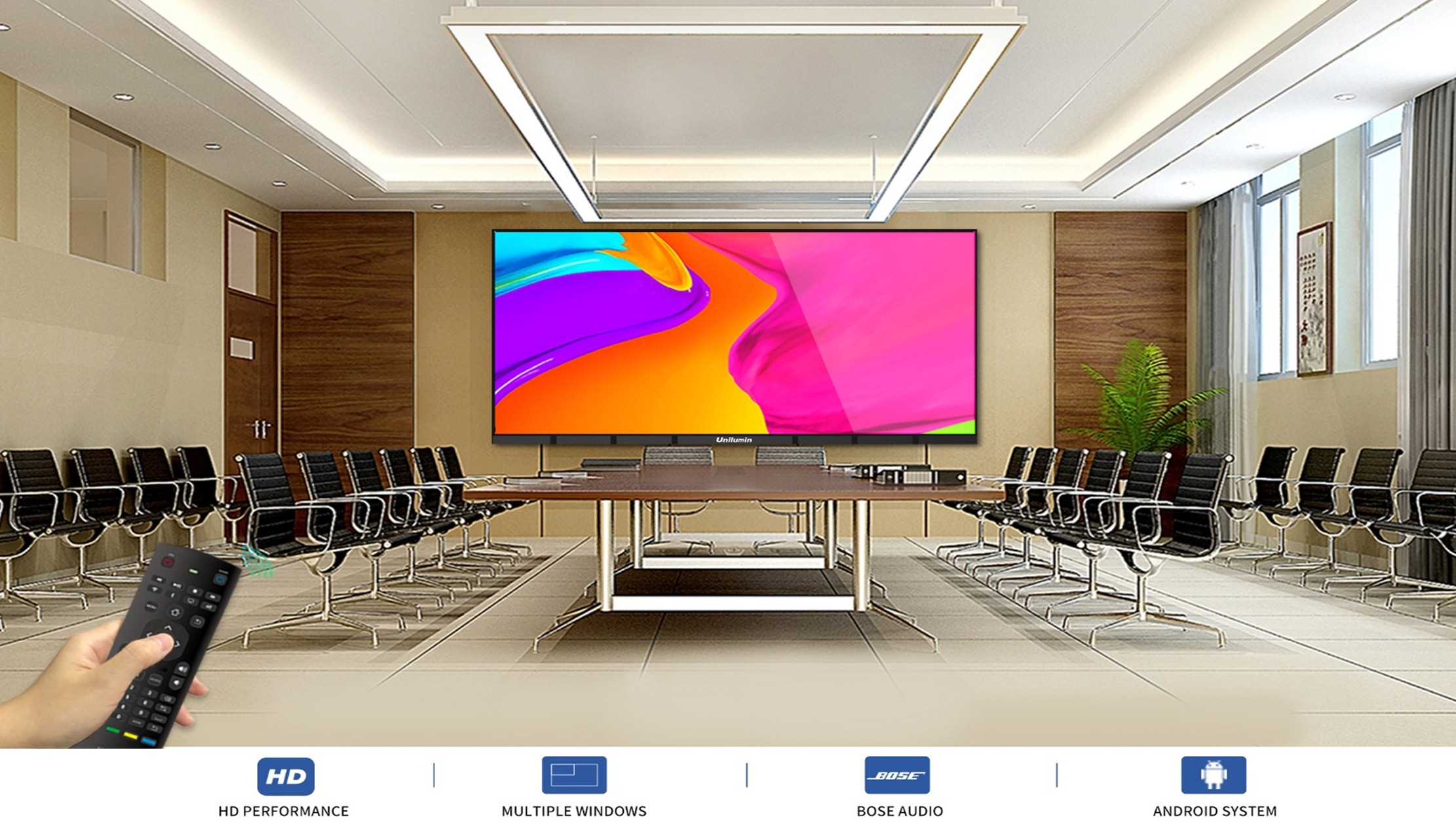 One for rewarding meetings
UTVIII is a go-to product at the cutting edge of LED TV technology. Thanks to the ultra-narrow frame, UTVIII can present a maximum display that meets the growing demand from end users. Available in 136" and 176", UTVIII is right for any size of a conference room, big or small, to guarantee excellent visibility on the display. The contrast ratio of 5,000:1 and ultra-wide color range along with the great flexibility in brightness adjustment and color temperature adjustment enable UTVIII to not only create stunning imagery but also ensure perfect visual effect even in a poor light. When the display is good enough, your meeting becomes more productive.
One for powerful connection
To create powerful connection, whether it's among attendees or devices, is an important job that the smart UTVIII can do. The remote control specially designed to work with UTVIII plays an important role in holding a conference more intellectually and more efficiently. One click on the button, UTVIII will be ready for the conference in 10 seconds. With a few more clicks, UTVIII can connect geographically disperse teams into a video conferencing as a tool to enhance communication and collaboration among company staff or between business partners. It is not just a user-friendly controller but also a helpful multi-task performer—when several conference attendees need to mirror their displays simultaneously on the screen, UTVIII can present up to a maximum of four exact replicas of what's going on in the participants' mobile or computer devices through Airsharing, i.e. wifi, hotspot, and wireless display receiver, including any forms of demonstration (i.e. pictures, slides or videos)
One for efficient servicing
Easier installation and maintenance have long been requested by the market, for time and labor costs could be largely reduced.
The revolutionary 38-mm-thick UTVIII has enabled a new level of convenience of installation because the cabinet is not only lightweight but also free from complex wiring. Besides, the installation is simply a wall-mounting process that can be finished by merely two engineers within four hours without additional construction.
The screen size in a meeting room is becoming bigger nowadays, the maintenance, however, is getting easier and faster. UTVIII is viable for troubleshooters to deal with maintenance as quickly as possible: not only can the module, the power supply, and the system card be serviced completely from the front but also it takes just three seconds to replace the module. No more effort is needed to calibrate the screen after the replacement since screen alignment and correction take place automatically and swiftly.
Given the realization of full front maintenance, more space originally taken up by back maintenance can now be released in return for other purposes of use in the meeting room.
All in one
As an all-in-one solution, UTVIII integrates all the software with the hardware to carry out all its functions more efficiently. The integration allows the Android system to realize a variety of uses, such as splitting the screen into several windows through Unicast or playing audio on the optional built-in Bose speaker. Moreover, UTVIII can be put into use as quickly as possible since all the necessary hardware is available in the package and no extra purchase of installation materials is compulsory.
When you consider how to make a difference in conferencing, let UTVIII do the work. To find out more details, please contact sales@unilumin.com.