Busy Preparation
With the coming back of Telstar 18, the official match ball of the 2018 FIFA World Cup, from International Space Station with cosmonauts on June 3rd, global eyeballs again being caught on the incoming exciting international feast among overwhelming advertisements in every corner of the world.
On the football paradise of Northern Hemisphere, each and every stadiums for the Game are going out of their ways to seize the last preparation moment before time is running out. As the main stadium for opening ceremony of Russia 2018 FIFA World Cup, Luzhniki Stadium especially spares its great efforts. This UEFA Category 4 stadium has undergone a large scale renovation from 2013, wishing to extend its glorious past and lead a new success.
Recent four years witnessed an increase of the number of seats and updating of modern equipment in the Luzhniki. To bring better fans viewing experience and attract more sponsorship opportunities, it adopts Unilumin's LED solution that combines scoring system and precise timing functionality as its new display media.
"Our equipment needs to be changed because long service time has left it out of date. We have to find alternative screens globally. The current one is an open display which overall effect is much better than before in terms of color, quality, clarity, etc. We focused on the supplier's product quality, program solution, delivery capabilities and after-sales service and ultimately chose Unilumin as our partner. Unilumin has done many similar cases in top-level international games, including 2013 Kazan Universiade, 2014 Sochi Winter Games and 2016 Brazil Olympic Games, and their local branch shows us good product, suitable solution and local service capability. We are satisfied about this cooperation and this case again proves that it is a reliable Chinese display provider and solution provider. " said Vladimir Aleshin, General Director of the Olympic Complex Luzhniki OJSC.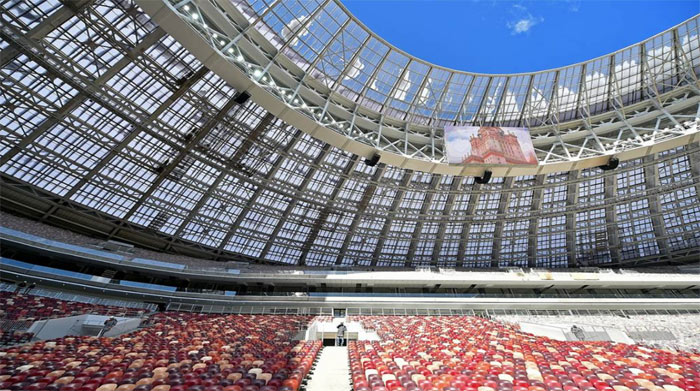 Unilumin's Scoreboard in Luzhniki Stadium
About Unilumin Sports
Dedicated and devoted, Shenzhen Unilumin Group Co., Ltd. has been contributed itself in delivering high-quality, high-performance LED products and solutions to clients in different fields of media, broadcasting, control room, security monitoring, video conference, retail, sports & entertainment, etc. We are always in top three biggest exporters for three consecutive years with products exported to 160 countries and regions worldwide.


Unilumin Sports, a part of Unilumin Group Co. Ltd., is a global leading LED display solutions provider for international sports events in both indoor and outdoor sports.
We empower sports stadiums and venues with the most advanced LED technology available. Each and every client, including top clubs, federations and leagues including Eredivisie, Bundesliga feels amazed at what we've achieved in top-class sports competitions like Olympic Games, FIFA World Cup. Different applications in sports, including ribbon/fascia, perimeter, cubic, scoreboard, video wall, can be found here.
In 2018 Russia World Cup, football fans will have the chance to enjoy great viewing experience through high-definition screens in four stadiums provided by Unilumin. Besides Luzhniki Stadium, Unilumin also has been involved in offering scoring, timing and advertising solutions in Mordovia Arena (Saransk Stadium), Cosmos Arena (Samara Stadium) and Kazan Arena.
On the basis of LED display equipment, Unilumin integrates audio equipment and control system together. The whole solution helps football clubs to achieve functions of live broadcast, message display, slow-motion playback, fans interactive games and social media integration, improving games experience and engagement.
More importantly, cutting-edge LED technologies attracts more sponsors because advertising content can be rebroadcasted in different countries and regions. This can be a win-win situation. On the one hand, football clubs garner the benefits of attracting more sponsorship; on the other hand, more sponsors gain more opportunities for brand exposure.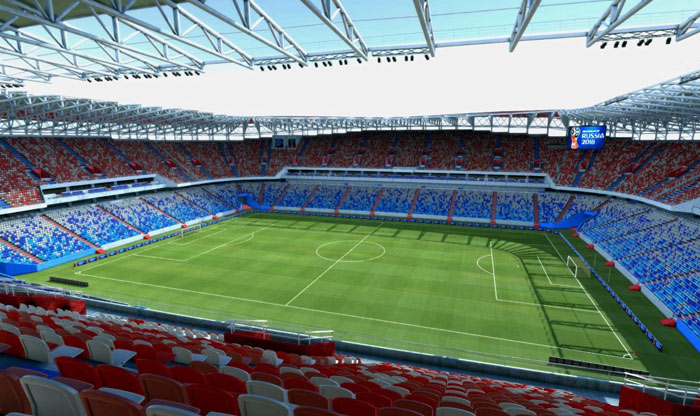 Unilumin's Screen in Saransk Stadium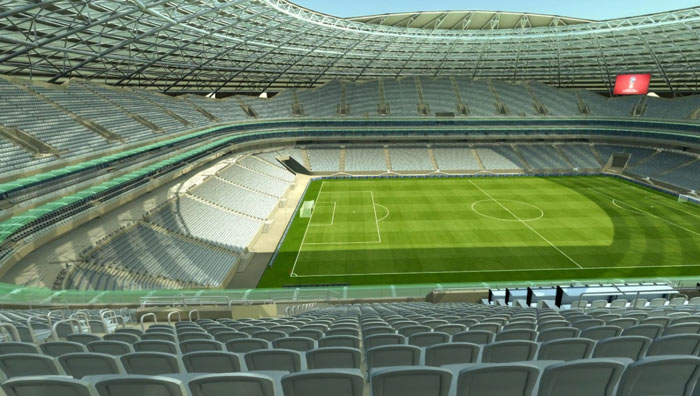 Unilumin's Display in Samara Stadium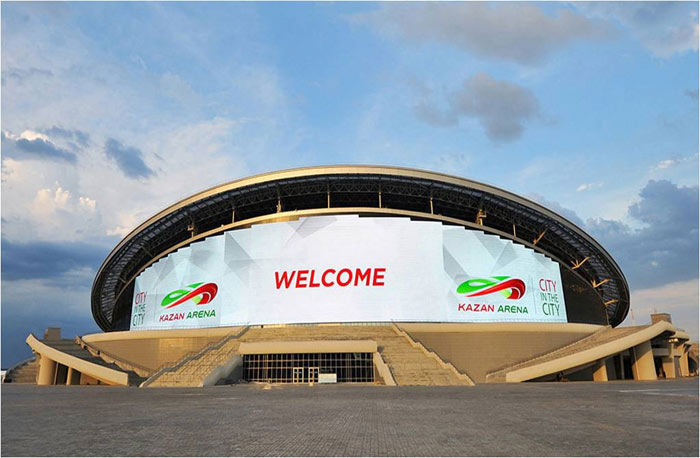 Unilumin's Media Facade in Kazan Arena
What is worth noting is that every project is unique and custom designed, setting a high barrier for supplier's capability of high profile engineering and timely project management. Take Kazan Arena as an example, it has the largest off-court screen in Europe with the LED area reaching 3650 square meters.
"It's a very important and difficult project that allows no mistake. We have encountered many obstacles due to extreme climate and urgent delivery time. The combination of cold weather, low temperature and huge steel structure got us into trouble in a period. The adoption of mesh screen was a right choice to endure strong wind and alleviate the weight of screen itself and overall structure. Finally we made our way to exceed the size limit and achieve seamless splicing," said Pochtennov Pavel, manager of Russian branch of Unilumin, "Sophisticated project experience, complete program solution and local service team together ensure a high all-round performance."
As such, Unilumin wins many hearts and good reputation these years. Our footprints can be found in many top-level sports events and famous sports clubs and leagues. Some classic sports references are as follows: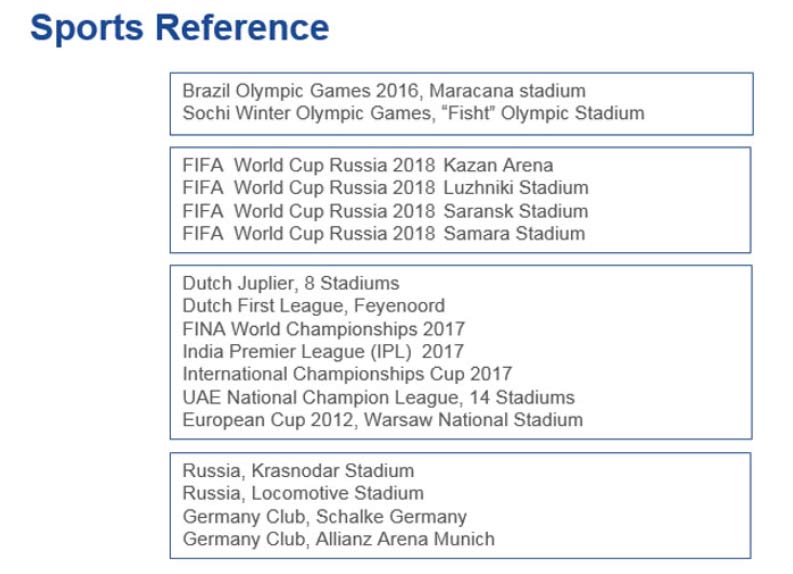 Future Outlook
According to reports released by A.T. Kearney analysis in Feb 2018, sports market revenue has gone through a rapid increase in recent years, covering main sports like football, formula 1, tennis, golf and other sports. Among them, football is the most popular sport in the world and can be called a King in Europe, where it accounts for the vast majority of sports revenues. Especially, sports market is growing faster than the GDP in most areas shown in the picture below.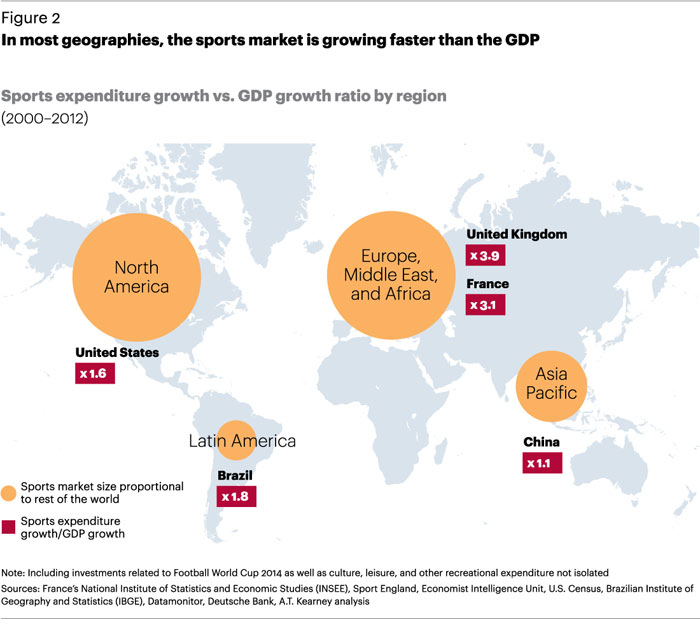 Source: A.T. Kearney Analysis Report in Feb 2018

When turning sight to the global second largest economy, all parties feel excited to see the plan released by the Chinese State Council, noting that Chinese sports gross output will be estimated at 5 trillion yuan(7961.5 billion USD)by 2022. This land is undergoing tremendous changes, for instance, more international sports events to be held in this land; financial investors are more confident about sports start-ups and more Chinese brands get involved in sports sponsorship.
The flourish of sports market undoubtedly indicates a strong growth of the LED market. Unilumin Sports will seize the moment and always dedicated to becoming a professional LED solutions provider in sports industry. We will continue to carry out diversified business models with partners to improve fans engagement and enrich in-venue experience.
Bearing in mind motto "Together, for a Brighter Future", Unilumin Sports is committed to create a brilliant, beautiful and better sports life for everyone in the days to come.
Author:
Evelyn Chen
Marketing Manager
Unilumin Sports
leddisplay26@unilumin.com
Paul Liu
Director
Unilumin Sports
leddisplay-paulliu@unilumin.com