The 26th Universiade was successfully held in Shenzhen China, it was greatly impressed by audiences all over the world. The 27th Universiade will be held in KAZAN, capital of Tatarstan, in July this year. What is noteworthy is that the LED displays of both events are supplied by Shenzhen Unilumin, which is high recognition to the products of Unilumin.
2013 KAZAN Universiade is another large-scale comprehensive World Games in Russia after afterwards Moscow Olympic in 1980. It is a good chance to prove the capacity of Russia on holding large sale sports events. Meanwhile it can do provide valuable experience for 2014 Sochi Olympic Winter Games and 2018 World Cup. This event is of great importance to Tatarstan event to Russia. So it has been paid much attention by the central government of Russia. And there has been set strict demand on suppliers for this event.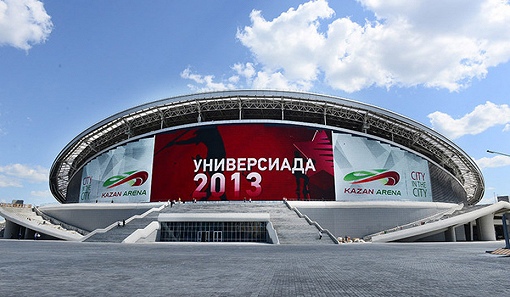 After comprehensive comparison among the global well-know LED display manufacturers, Unilumin was designated as the LED display supplier for this event. According to the introduction of project manager, Unilumin adopts Umesh 25 LED display for this project. The whole screen are made of Nichia chips with the features of hollow out design, high light transmittance, fast assembly and dismounting ,IP 65, high gray grade, high refresh rate and high brightness. Besides, it designed with excellent low temperature resistant capacity which ensure normal operation the the screen under the low temperature -40 °. This LED display was installed on the wall of the main stadium of this event. The total screen area is about 3700 sq.m which would be used for live broadcast during the games.