More than 2000 companies gathered here at 2020 Guangzhou International Lighting Exhibition (GILE) to explore the new chances for display and lightning technology after the crisis.
Unilumin attended to the exhibition with the theme of Immersive Smart City, and demonstrated new technologies including 3D shadow interactive installations, man machine interaction, visual immersion. These future-face technologies integrated with fashionable design have attracting a large number of audience
​
الدولي للإضاءة Guangzhou معرض
عمل هذا المعرض على ضم 19 قاعة عرض و أكثر من 2000 شركة تجمعوا هنا لاكتشاف وجهتهم الجديدة في قطاع الإضاءة بعد هذه الأزمة.
بالاسترشاد بهذه الفكرة مدموجة مع تركيبات Unilumin الفكرة الرئيسية لهذا المعرض تتمحور حول المدينة الذكية و لذلك قامت
الشاشة ثلاثية الأبعاد لجسيمات الظل البشري, و تفاعل الشاشة مع حركة الإنسان, مما عمل على جذب عدد كبير من المشاهدين لتسجيل الدخول.
و التي استوقفت العديد من العملاء لمعرفة المزيد من LED بعرض مجموعة متنوعة من منتجات Unilumin Joyway قامت
التفاصيل.
منهم:Unilumin Joyway تم الكشف عن 3 منتجات رئيسية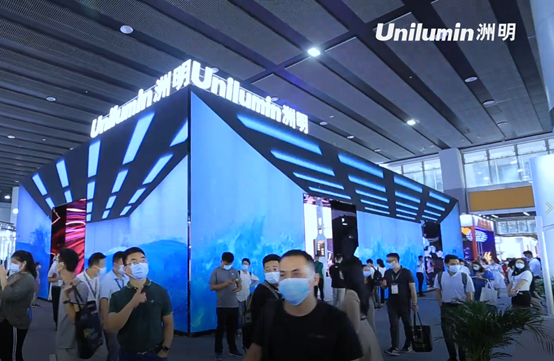 Unilumin Booth at GILE2020
Among variety of attractive demonstrations, the area created with the Unilumin Joyway LED displays, such as the LED ceiling, celebrity walk and outdoor stand stood out with its unique features.
1. LED Ceiling Screen
The large screen installed on ceiling was created with grille display O-2536. This product can be customized into a variety of shapes to create large size video wall curtain without any complication. As demonstrated on Unilumin booth, the visual effect was absolutely stunning so that it became one of the hottest spot on exhibition for visitor to stop and take a picture
المعروضة و يمكن تطويرها بأشكال مختلفة بناءً على طلب O-2536 Grille screens الضخمة من Sky Screen تتكون
العملاء.
التجارية الكبيرة الحجم مما جعله يتوقفوا لالتقاط بعض الصور Complex Sky اختبر الزوار تجربة رائعة بسبب توفير شاشات
لذلك أصبحت هذه المنتجلت من أبرز معالم هذا المعرض.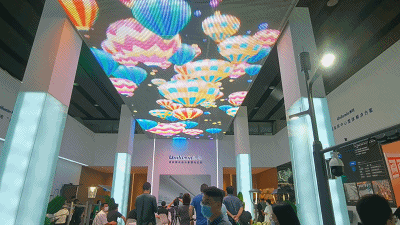 Unilumin Booth at GILE2020
2. Celebrity walk
Another Unilumin Joyway product that highlighted at GILE2020 is GWF-3 series was located in entrance of the booth. The screen features ultra-high brightness and transparency to create a three-dimensional, time capsule like experience for the entry setting a dynamic tone for the rest of the spot. Another great demonstration of Unilumin Joyway's creative display is a virtual waterfall project located at Yuehui shopping center in Guangzhou. In addition to the displays, the internal and external lighting were also custom designed and produced by Unilumin which set this place a landmark of the city.
الشفافة ذات الإضاءة و الشفافية العالية عند المدخل و هذا النوع من الشاشة مصمم خصيصاً GWF-3 يتم عرض شاشة
لإنشاء مساحة ثلاثية الأبعاد
و استخدمت هذه الشاشة لتصميم
The Immersive Waterfall Screen In The Atrium Of Yuehui city
بعناية بواسطة مجموعة متنوعة من منتجات الإضاءة من Yuehui تم إنشاء الشاشات الداخلية و الخارجية لمدينة
.Guangzhou و أصبحت معلم بارز فيUnilumin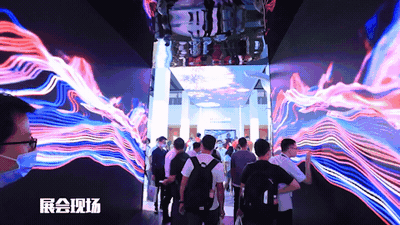 Unilumin Booth at GILE2020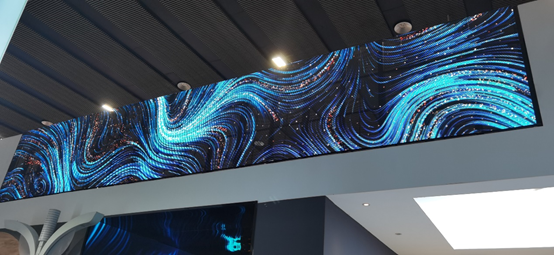 Unilumin Booth at GILE2020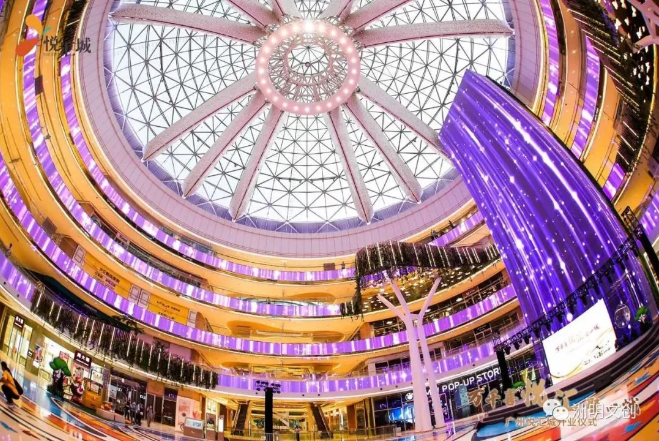 Yuehui Shopping Center
3. DOOH Screen
Unilumin Joyways creative display also could be seen representing the GILE2020 at the entrance of exhibition hall A, displaying the vision and mission of the exhibition. It was set up with O-2525E series and covered an area of nearly 100 square meters. Light and easy installation, excellent display performance attracted a large number of attendees including the outdoor media owners, media agents and planners.
Unilumin Joyway هي منتج العرض الرئيسي ل A الخارجية الموجودة على المنصة الغربية في القاعة Grille شاشة
و تغطي مساحة تقارب ال 100 متر مربع.O-2525E تم بنائها من سلسلة
مشاركتنا في هذا المعرض جعلتنا نجذب انتباه العديد من العملاء و زادت معرفتهم بشاشاتنا المتنوعة.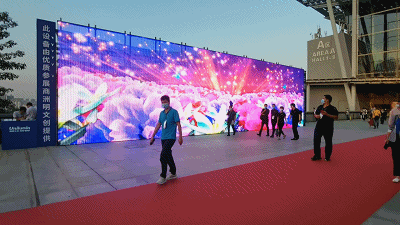 GILE site picture
During the three-day exhibition, a great many number of visitors gathered at Unilumin booth for connection and collaboration. On the other hand, Unilumin has shared its expertise on how to harness the power of tech to secure the future of smart city. As a world-leading LED display provider Unilumin will continue to its effort to research and provide customers with better products, integrated solutions and intelligent servic
و هو عبارة عن مقابلة مع منظم المعرض و مع شركة معرض Aladdinلحضور اجتماع Unilumin Joywa تمت دعوة
لتمكين علامتنا التجارية.Talents of Gulf بالإضافة إلى بث مباشر مع Frankfurt
و عمل على مناقشة الاتجاهات Joywayبإعطاء مقدمة عن منتجات Unilumin Joyway لشركة المدير العام UniluminWang Jiaqi قام
الجديدة في مجال الصناعة من ناحية الإبداع و كيفية تطويرها.
كانت و ما زالت معروفة بالشاشات المرئية و الخارجية لخلق معالم مميزة من خلال Unilumin Joyway بأن Wang Jiaqiقال
هي أقوى نقطة تعمل على المساعدة في بناء المدينة الذكية. 5G Smart poles إضاءة المناظر الطبيعية وأضاف بأن
ببناء نظام يوفر حلول للإضاءة بجمع إضاءة المناظر الطبيعية و الإضاءة بشكل عام مع إضاءةUnilumin Joyway و تقوم
المدينة معاً عن طريق إدراك التحكم بهم مما ينشىء نظام ذكي للإضاءة.
و أضاف أيضاً بأن بعد هذا الوباء اكتسبت السياحة نمواً هائلاً خاصة بمناسبتي العيد الوطني و فصل الخريف.
و حقق السوق بأكمله استهلاكاً غير عادي أضاف للشركات أفكار و هذه الفرصة أتاحت إمكانات جديدة للأعمال الثقافية و الإبداعية و السياحية.
أيضاً, لذلك سنقوم بتطوير شاشاتنا و منتجاتنا في السنوات الخمس القادمة لتحقيق تطور Unilumin و ذكر أيضاً بأن هذه فرصة جيدة ل
من ناحية عرض الشاشة و تركيبها.
العديد من الأفكار البناءة لإدارة المعرض و خدمة متابعة المعارض و التي تم قبولها بصدر رحبMr.Wang و في نهاية المقابلة اقترح
.Frankfurt من قبل منظمي معرض
في النهاية قام الضيوف المشاركون بحوار معمق حول موضوع "في عصر الاستهلاك, كيف يمكن أن يصبح السفر الليلي محركاً جديداً للتنمية الاقتصادية الحضارية"
في الحقيقة الطبيعة الأساسية للسفر الليلي هي السفر, دع الناس يخرجون حتى لو كانوا غير متصلين بالإنترنت, سوفMr.Weiقال
نجمع المتصل بالانترنت و غير المتصل.
Lighting up night lifeببث مباشر حول موضوع Wei Qijun قامUnilumin Groupفي جناح
بتفسير مفهوم إضاءة الفيديو و عرضها بشكل كامل و هذه Wei من وجهة نظر محترفة مدموجة مع "تطوير اقتصاد السفر الليلي" قام
المنتجات جذبت انتباه الزوار في المعرض.
ناجح و شائع للغاية و تلقى قسم التسويق Uniluminاستمر هذا المعرض لثلاثة أيام و اختتم اليوم بنجاح. كصورة مجملة كان جناح
عدد لا نهائي من الاستشارات من قبل العملاء كل يوم.
التركيز على البحث الدائم و تزويد العملاء بمنتجات ذات جودة أفضل و حلول متكاملة Unilumin Joyway في المستقبل ستواصل
و خدمات ذكية.
لإعطائك تجربة جديدة! Unilumin Joyway العام المقبل, في انتظار GILEنتطلع إلى