Recently, jointly selected by the Ministry of Industry and Information Technology and the China Federation of Industrial Economics (CFIE), a new batch of certificates for Single Champion Enterprise (product) in Manufacturing were officially issued. Unilumin has retained the title of Single Champion Enterprise in manufacturing awarded by the Ministry of Industry and Information Technology.

Benefit by years of development, China's LED displays are leading the world in terms of industrial scale and technical strength. Unilumin ranks first in the world in terms of sales and shipment area of LED display, demonstrating its important role as a representative of China's advanced manufacturing producer in reality as well in name.
Strength
As an enterprise of LED baseda on industry chain, Unilumin was founded 18 years ago. It is young in comparison with domestic veteran brands and overseas companies with 30 to 40 years of LED industry accumulation!
18 years of history, Unilumin entered its "adult" phase:
In the first stage, Unilumin took 7 years to be listed on IPO, and its outstanding development achievements created a record for the growing speed of domestic LED companies;

In the second stage, Unilumin has achieved an accelerated growth of "ten times in ten years" in corporate revenue, not only rewarding capital market investors, but also making itself become the world's leading brand in the LED industry;

Today, Unilumin has become the world's "No. 1" LED display product supplier and will continue to take innovation as its core, manufacturing as its foundation, and quality as its life, to create the miracle of "Constantly Upgrading of Products Made and Created in China".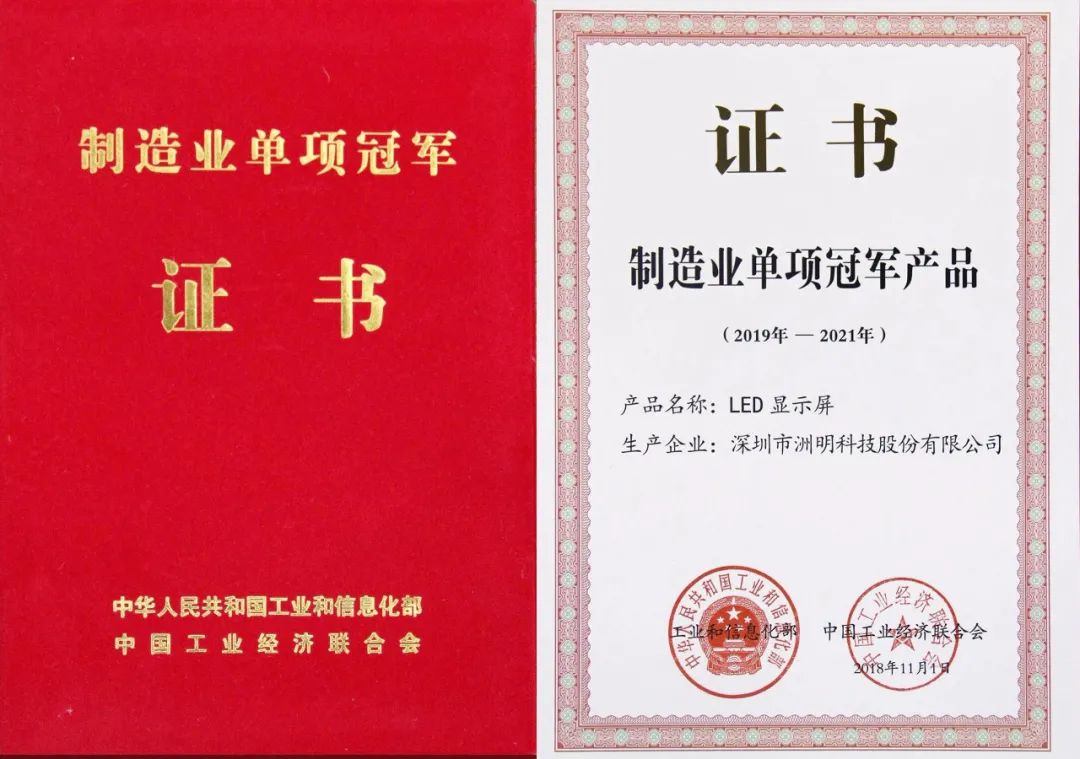 In 2018, Unilumin LED display was awarded the Single Champion Product by the Ministry of Industry and Information Technology
The extraordinary development has won many honors for Unilumin. In recent years, Unilumin has won the First Prize of National Science and Technology Progress Award, international design award "Red Dot Award: Best of the Best" as the industry's first, China Patent Silver Award and Excellence Award, Guangdong Provincial Government Quality Award, First Prize of Guangdong Provincial Science and Technology Progress, German IF Gold Award and other awards, as well as many honorary titles such as National Intellectual Property Advantage Demonstration Enterprise, National Green Factory and so on...
In the application market, Unilumin has become a first-class supplier of many "global benchmark" projects. For example, Unilumin's "LED Display" supported the 2022 Beijing Winter Olympics, the CCTV Spring Festival Gala stage, the Oscars ceremony, the 70th National Day military parade, the World Cup in Russia, the Olympic Games in Brazil, the Basketball World Cup, the National People's Congress, and other major historical scenes. The trust, recognition, and large-scale application of customers have fully proved the industry strength of Unilumin.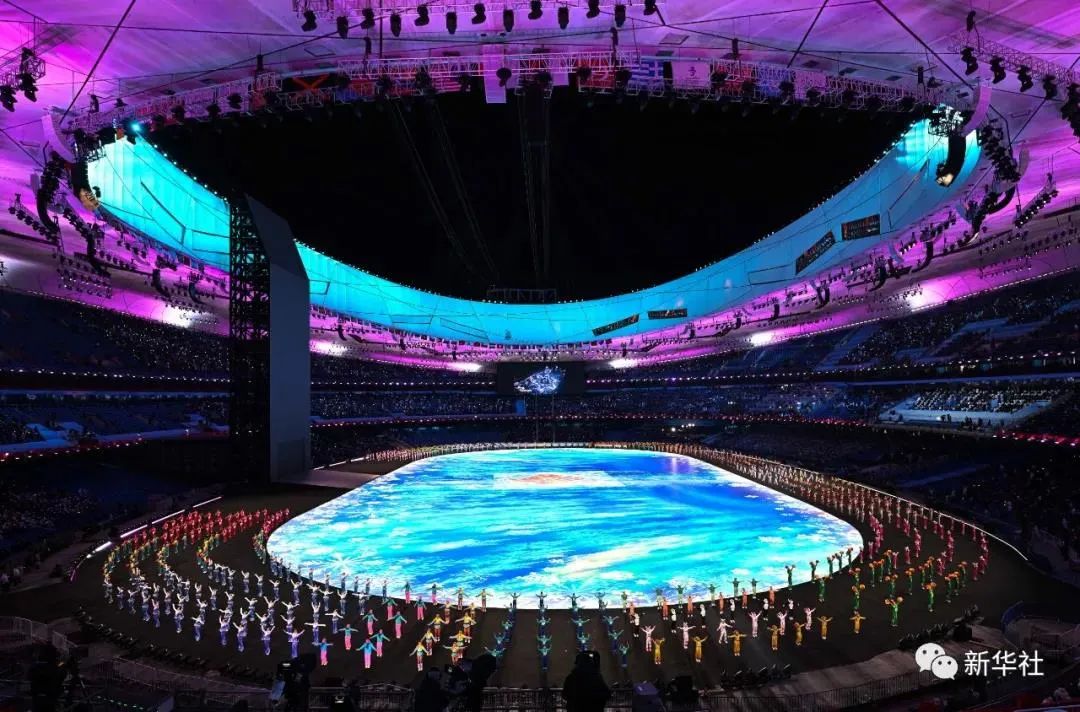 In the Opening ceremony of Beijing Ice and Snow Festival 2022, Unilumin provided 4,500 square meters of LED floor screen. Photo by Xinhua News Agency
Behind these honors and achievements, is the continuous strategic layout and profound accumulation of Unilumin over the past 18 years: in September 2021, the second phase of the Intelligent Manufacturing Base of Unilumin Daya Bay Science and Technology Park was put into operation, and the Mini LED production line was put into operation - this super "Smart Factory" with an area of 400,000 square meters is also the world's largest intelligent manufacturing base for LED displays. Globally, Unilumin has deployed three major R&D centers (in China, Japan, and US) and four major production bases (Shenzhen Fuyong Headquarters, Shenzhen Pingshan Intelligent Manufacturing Base, Zhongshan Intelligent Manufacturing Base, Huizhou Daya Bay Intelligent Manufacturing Base).
"The World's No.1 supported by Hard Power! "Unilumin's coming-of-age ceremony is so brilliant and worth to be proud of, and yet this is only the "prologue" of the future blueprint of Unilumin LED Display.
Stepping Over
"Domestic Industry chain of LED, especially the LED display industry ushered in an important watershed in 2012-2014!", that is, the transformation from a catcher to a leader of local industry chain. Industry insiders recalled that from 2008 to 2010, the domestic market mainly relied on imports for LED displays with P2.0 pitch, and its price offered by some foreign giants was as high as one million yuan per square meter; Today, domestic small-pitch LED display products have become the dominant technology products for export, and domestic high-quality P2.0 pitch products have already achieved high popularity at a price of 10,000 yuan, benefiting global customers.
In the historic growth tide of national LED industry, Unilumin is undoubtedly a typical representative. What's more, behind the Single Champion Enterprise of manufacturing industry, it is not only simply about "making more", but also about the leap and upgrade from "manufacturing to intelligent manufacturing", and also about the leadership advantages of Unilumin in the great change of local LED industry from "a catcher to a leader".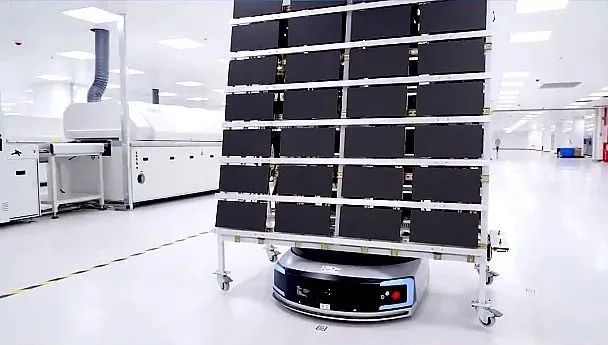 The interior scene of Unilumin Daya Bay Intelligent Manufacturing Base
On the one hand, the competitiveness of products must be based on "intelligent creation". In 2014, Unilumin launched the world's first 0.8 mm micro-pitch screen, using 0606 extremely-small package matte black lamp, with a patch accuracy of 0.01 mm. At present, Unilumin's Mini LED display technology has covered high-end applications such as 0.5-0.9mm pixel pitch of mass-produced products, and has completed research and development on P0.3-P0.5mm Mini/Micro LED display products and prepared finished samples. Conduct R&D work during volume production, and conduct Planning work during R&D phase, Unilumin is becoming more and more advanced in the road of high quality LED display and high-precision LED manufacturing.
As the support of product innovation achievements, Unilumin's R&D investment has also increased year by year. In 2021, Unilumin's R&D investment reached 308 million yuan, and it has a young R&D team of 1,130 people. Scientific researchers account for 19.1% of the company's total. As of June 30th, 2022, Unilumin has obtained 2,339 independent intellectual property rights, participated in nearly 100 national, industrial, local and group standards, and actively participated in the national 13th Five-Year Plan, the 14th Five-Year Plan and 863 scientific and technological research projects, continuing to overtake on the track of "Intelligence Creation" of Metasight.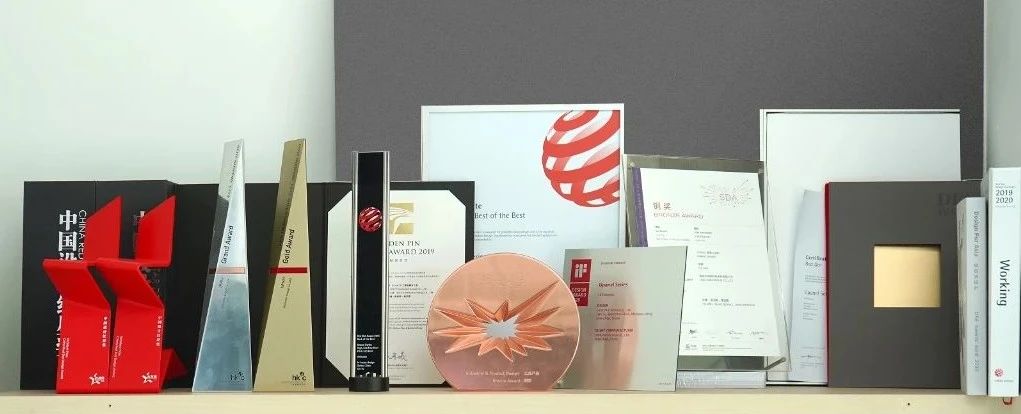 Some of the design awards won by Unilumin over the years
On the other hand, Unilumin knows very well that "the best design also requires the best manufacturing in order to achieve truly competitive". The Intelligent Manufacturing Base Phase II of Unilumin Daya Bay Technology Park aims at intelligent manufacturing and relies on advanced Industry 4.0 and Industrial IoT concepts and technologies to create a benchmark for the upgrading of its LED industry from "manufacturing to intelligent manufacturing".
In the factory, the production space spans 10 floors longitudinally, with production operation procedures of nearly 30 different LEDs scientifically arranged. The technologies and equipment such as human-machine intelligent interaction, industrial robots and intelligent logistics are fully introduced to realize the "automation, intelligence and flexibility" of the whole process of raw material receiving, quality inspection, in-warehousing, ex-warehousing, supply along the production line, finished product in-warehousing and ex-warehousing. A process that may have required 20 or 30 people to operate before, now requires only four or six people.
At the same time, intelligent manufacturing innovations such as "manufacturing accuracy" being highly dependent on the standardized operation of digital equipment, product target adjustment being completed digitally through programming, and digital quality control of the entire product output process have also laid a solid foundation for high-quality, high-precision products.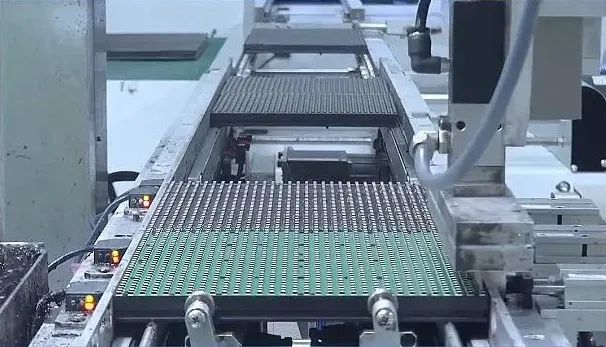 The interior scene of Unilumin Daya Bay Intelligent Manufacturing Base
On December 28th, 2021, Unilumin Zhongshan Intelligent Manufacturing Base project started again - this is not a simple copy of the previous smart factory, but a factory with further improvement. 1 billion yuan is expected to be invested in the operation of the phase I of Unilumin Zhongshan Intelligent Manufacturing Base with 195 mu of land.
On the basis of further improvement of intelligence and automation, the factory realizes the concept of "manufacturing sharing", and can complete the "low-cost and high-quality production organization" of small batch non-standard orders with extremely high efficiency, once again adding to the building blocks of Unilumin LED Metasight future blueprint!
Take manufacturing as the root, and take R&D as the core! Only when we grasp both links at the same time and attach sufficient importance to both, can our dream to be a "Champion Brand" be supported and put up. Relying on product R&D and innovation, intelligent manufacturing and the upgrading of Industry 4.0, the development of Unilumin LED Metasight business has entered a harvest period, and has laid a solid foundation for the realization of its dream of the next generation of "Metasight".
Vision
"The domestic LED industry has achieved catching up and surpassing international competitors, and has stood on the commanding heights of the global industry! What should we do next? "In response, Unilumin's answer is, "We can't cross the river by feeling the stones anymore. This is the beginning of the real contest." Unilumin wants to "define the future" for LED Metasight. Lin Mingfeng, chairman of Unilumin, pointed out that "One screen, one world, one lamp, one wisp of youth".
In the future, the LED Metasight industry will not simply focus on primary values such as "displaying video and illuminating space", but will become a "part of the smart light and shady space" to create a supply and innovation chain of "metaverse and extended reality" applications belonging to LED technology, and deeply integrating into the creation process of intelligent and digital society and life.
In 2021, Unilumin was the first in the world to propose the concept of "SDLD Software Defined LED Display". That is to say, adopting the emerging IoT technology, referring to the design ideas of distributed and micro-service architecture, and using the software to define the large-screen technology architecture, so as to realize the LED large-screen as the core terminal of the display business system, and realize the flexible project solutions which supports "the application-oriented flexible customization, whose manufacturing process meets the unique requirements of design and share manufacturing, and whose basic technologies can be superimposed and selected by building blocks", to provide customers with full-scene and diversified intelligent display services.
The interior scene of Unilumin Daya Bay Intelligent Manufacturing Base
In the future, Unilumin will definitely be the magician of "Light"! The application of the LED industry chain is changing "from fixed form to non-fixed form", "from manufacturer-defined-the-product form to customer-defined-the-product form", "from rigid visible applications to flexible low perception but ubiquitous applications", experiencing the historic transformation. The vision of Unilumin's LED business is no longer "better products, bigger share", but what kind of future world can Unilumin's innovation and wisdom create!
"The future is like the competition "in deep water" of smart innovation and smart manufacturing! Yuan Daoren, Vice President of Unilumin, believes that "Metasight" is a concept of technological romanticism, an inevitable result of the development of the industry and society, and the best choice to meet customer needs under the background of diversified and upgraded customer needs. A complete set of Metasight solutions include hardware, software, content, creativity, delivery, service and other architectures and capabilities.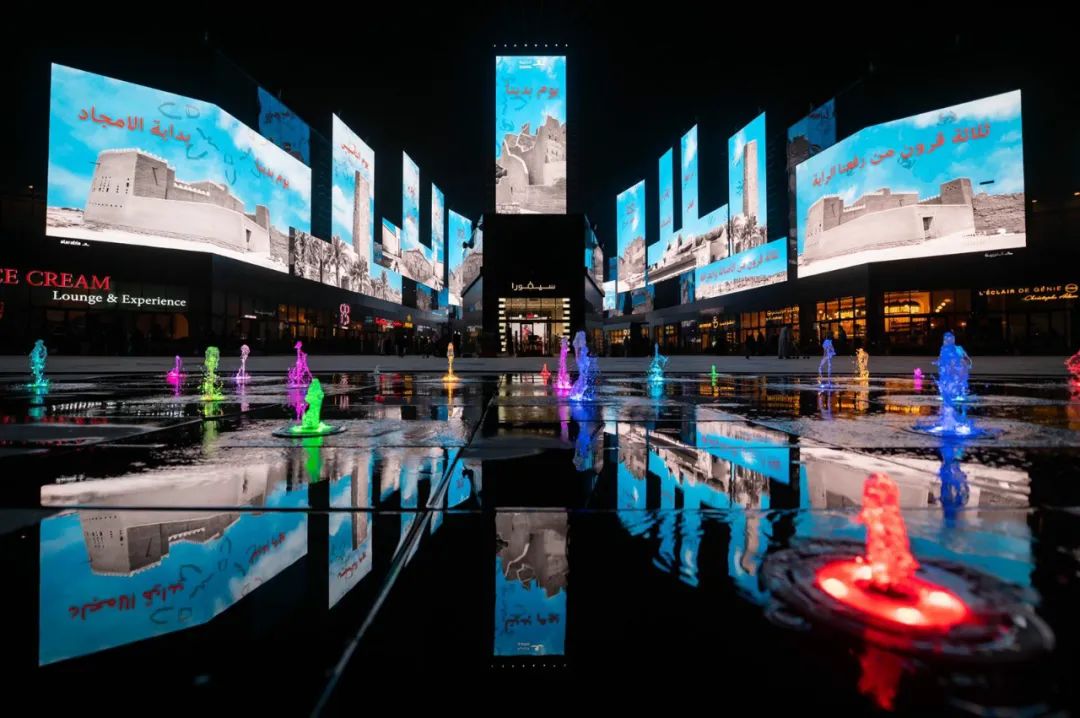 Saudi Arabia Riyadh Season-Unilumin integrated solutions amazed the whole world, having promoted local employment and economic development
"The Metasight will play the role of the connector and portal between the real world and the digital virtual world." The construction of a digital and information-based society, the application of smart technology, and the development of the metaverse are giving birth to the transformation of everything into "the combination of video, light and shadow, virtual and reality." This not only means huge industrial increment space and market growth potential, but also means huge changes and revolutions in industry laws, competition rules, product forms and business models.
"Highly industrialized, scenario-based, personalized, differentiated, customized and diversified!" The future of LED Metasight belongs to creation and companies with dreams, also belongs to Unilumin. Looking for a new track and a new peak, Unilumin never stops exploring. Unilumin has been rolling up the sleeves and working hard to speed up for bringing a better future!
---
---
Editor-in-chief: Zhu Wei The article is forwarded from "Projection Times"