Abstract: Unilumin High-end Outdoor LED Display Lighting UpChengdu New Century Global Centre
Recently, Unilumin successfully installedone large P16mm outdoor LED display at Chengdu New
Century Global Centre with total screenarea of 732 square meters.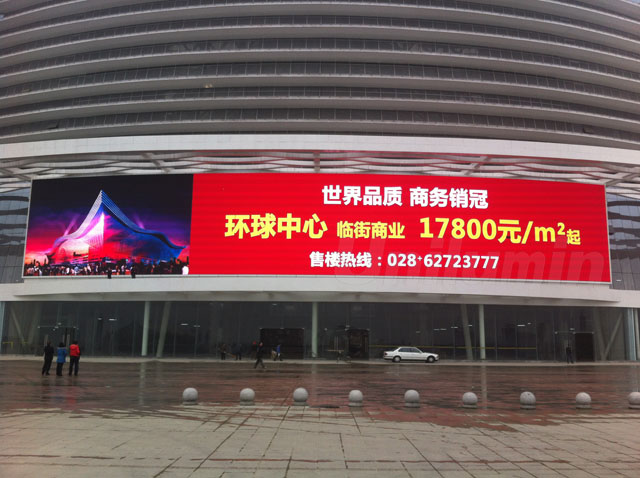 New Century Global Centre is a multipurposebuilding in the Tianfu New Area of Chengdu, China. The 100 m (330 ft) structureis 500 by 400 m (1,600 by 1,300 ft) with 1,700,000 square metres (18,000,000 sqft) of floor space, making it the world's biggest building measured by floorspace. The Boeing Everett Factory in Everett, Washington has the largestvolume, and the Aalsmeer Flower Auction Building in Aalsmeer, Netherlands, hasthe largest footprint. The giant screen outside the building with more 150metres long and 40 high is the largest outdoor LED display of Chengdu city,installed in high-end entertainment places.
This P16 HD outdoor LED display fromUnilumin was installed above the middled of the main door. With strategic location, the huge screen isopposite to the well-known music spring. It is the most important platform forculture dissemination, message releasing and video propaganda. With high brightness,rich colour, smooth and delicate display effect, this LED display not only addsstrong sense of science and technology for the centre but also to be as abeautiful landscape attracting audiences to watch.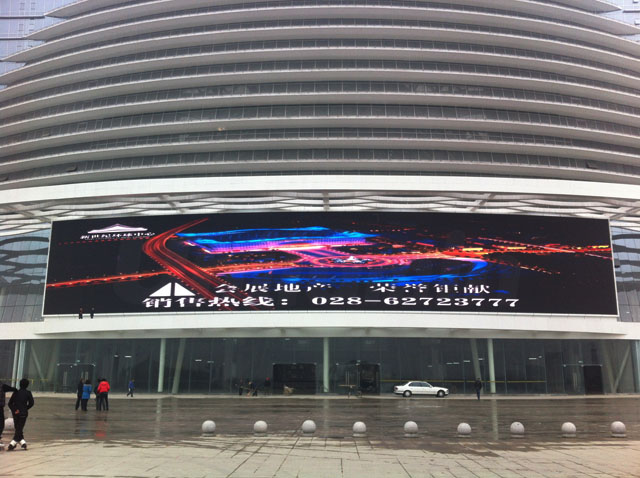 Recently years, LED display has developedas the indispensable propaganda tool. They are widely installed in publicplaces, such as park, culture museum and scenic tourist attractions, etc. Theoutdoor LED displays play important role in culture dissemination. Unilumin hassupported many governmental and municipal large-scale projects includingTi'anmen Square LED display project for The 60th anniversary of the NationalDay. Depends on good quality and mature technology, Unilumin leads the industrytide.
As reported, the Global Centre outdoor LEDdisplay project adopts Unilumin UFix Fo16 HD products which has features oflong life span, stable performance, cost - effective and strong preservativeability etc. Considering using environment, Unilumin made detail analysis anddesign on aspects of moisture - proof, dustproof and maintenance etc. Strictlycontrol on production process and material purchase. The suite is made of90%Polycarbonate + 10%fiberglass to extend service life. The corrosionresistance of the cabinet and surface meets to shipping industry standard whichcan also guarantee service life. With 94-V0, IP65/43,UV protection, high andlow temperature resistance, acidalkali and salt flog resistant, this producthas high stable performance on moisture protection and corrosion protection.
In recent years, Unilumin has gained remarkableachievements in LED filed and has been completed a number of LED applicationprojects in Chengdu City. Unilumin predominates LED display market in Sichuanprovince. Further more, Unilumin LED displays have been widely exported tooverseas market such Russia, U.S, Australia and so on. Unilumin is leading thetide of LED display industry.