May 1st, 2010 The screen, which was installed during last National Day Celebration, will re-establish in the Tiananmen Square. And our workers have been installing the screen at the end of April. It is reported that the screen will always stand in the square as a perpetual architecture to show splendid achievements of our motherlands.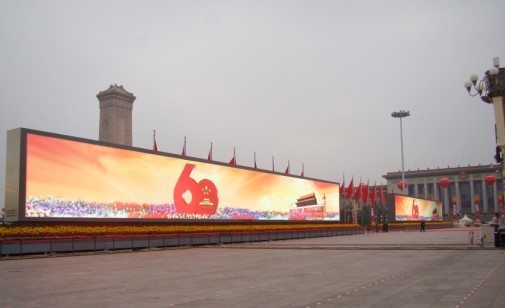 Unilumin contributed the display at the 60th Anniversary of National Day which is still the biggest display that established in the square by now. Concentrated by high-definition pictures, fluent vedios, audiences and visitors from China and overseas high approve this display and many visitors stand and took photos with it. And even our chairman, Jintao Hu approved that the display was not only a brilliant scene, but also brought convenience to people. And He hoped that this screen could stand in Tiananmen Square perpetually.
At present, the display has a little difference from the former one. The display's size was 49.15m(L)*5.12m(H), the total area was 251.658㎡,but now the size is 40.96m(L)*5.12m(H).
Unilumin stands out in the 60th anniversary depending on good quality and advanced technology. It is no wonder that Unilumin has an integrated and completed system of technology and service. Now Unilumin is as a national brand running on the way to the world-famous brand road, and our Uniluminers expect more challenges in the future!