InfoComm14 was held from June18-20 in Las Vegas, this show has 37,048 attendance this year- a new all-time attendance record.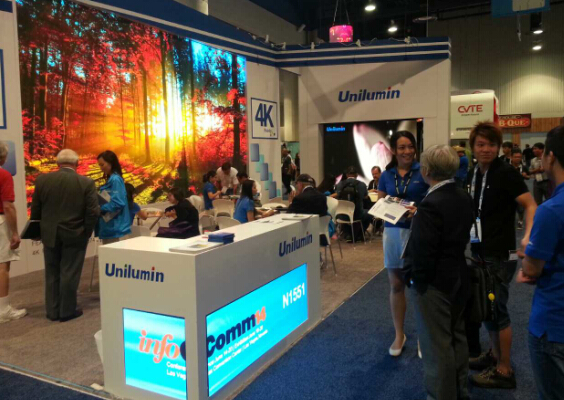 Unilumin brings a 4K UHD seamless LED video wall-UTV1.6 to this show, which attracts more than 1,000 visitors to stop by. "The traffic is 36% higher than last year's,and our sales leads grow 45% this year, we are so happy at the InfoComm14."According to Vincent Ma - General Manager of Unilumin Group, "Comparing to rear projection cubes and flatpanel video wall, UTV1.6 4K LED display is completely seamless and zero bezel, Unilumin's leading edge calibration technology also ensures the uniformity on both colorand brightness among every single pixel, all the people are stunned by its ultimate image quality, plus, it is 7/24 reliable which is critical for controlroom application"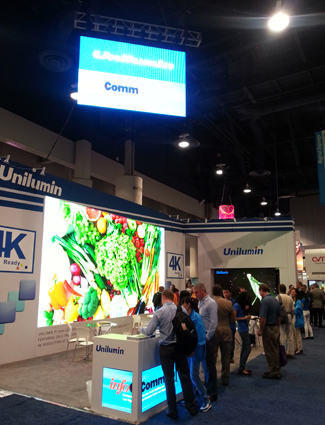 Unilumin also announces "UNI PARTNER PROGRAM 2014" at this show, the program aims to develop Unilumin's distribution channel for its UTV series UHD LED display across the world, and they have plans to support partners to grow their businessin local market.
"With UTV series UHD LED display, we are entering a brand-new market which iscurrently occupied by rear projection cubes and super narrow bezel flat panels,that is the control room market and public display market, commercial displaysand broadcast display market." Says Vincent, "Thanks to the new marketd evelopment, our sales has a rapid growth since the year of 2013, especiallyfor the international market, we welcomed a continuous strong market growth in South America, North America as well as emerging markets such as Russia and ASEAN region.
UTV series UHD LED video wall can be widely applied to control room, meeting room,retail branding and TV studios applications, etc.
About Unilumin
Unilumin(SZSE: 300232) is the most reliable and innovative LED manufacturer based inChina, with subsidiary in USA and office in Holland, Hong Kong, etc. Unilumin owns a national LED laboratory and has been awarded with 162 patents in LED display design, utility and so on. Unilumin adhere to channel marketing strategy and value partners to be the key for long term success. Welcome to join in "UNI" partner program.