"Lady Liberty" has embodied timeless concepts and served as a beacon of hope to countless immigrants arriving on the shores of a country founded by immigrants.
To provide inspiration to the millions of annual monument visitors, The Statue of Liberty-Ellis Island Foundation, Inc spent five years and $100 million on making the new 26,000-square-foot Statue of Liberty Museum.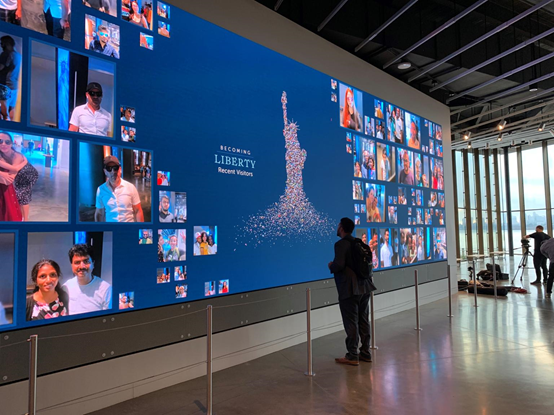 The centerpiece of the new museum is an immersive theater made by Unilumin's seamless LED video wall, 40 feet tall and 10 feet wide. What makes this tailored large video wall more special than others is that it tells people a uniquely, singularly American story— everyone here could trace their family back to a generation that sailed past Liberty Island, and likely even stopped at the nearby Ellis Island immigration-processing center.

​This LED video wall was specially tailored for the uniqueness of the museum environment where it is able to perform at its utmost image quality under the ambiguity of light in the museum. Double back-up systems ensure mission-critical reliability that would keep the museum's exhibit content streams flowing in the case of any sort of disruption. Also, it has long-lasting life span as expected and it supports 24/7 operation.
​

"Everyday people line up in front of huge Unilumin fine pitch video wall and excited to see their pictures appear and become part of the Statue of Liberty" Lawrence Estevez-Smith IT director of Ellis Island foundation comments.
With this installation is it great to see our technology share with visitors the history of American migration