November 27, 2011, the ceremony of "Travel of light and love:1000000 energy-saving LED lamp donation to Gutian" activity, organized by NDRC, was held in Gutian, Fujian province.
In 2008, the NDRC and the ministry of finance organized a promotion of energy-saving lighting products. With a policy to offer 50% and 30% subsidy to citizens and customers who bought LED energy-saving lamp, over 360 million LED energy-saving lamp was sold out, and realized the aim of "Saving electricity and cost for users, saving energy, cutting the carbon dioxide emissions, stimulating domestic demand for society".
With the subsidies of National Treasury and capital of "Energy saving LED lighting replacement of incandescent lamps" project, and donation of products of Unilumin in Shenzhen,100000 energy-saving LED lamps were installed for free to 44 health agencies and nursing stations, 31 middle schools, and families of minimum assurance and soldiers in 21 towns in and around Gutian city, which will saving about 4,370,000 KWH electricity(2,970,000 RMB) each year.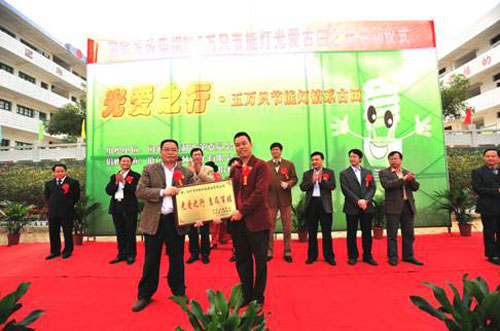 Scene of Donation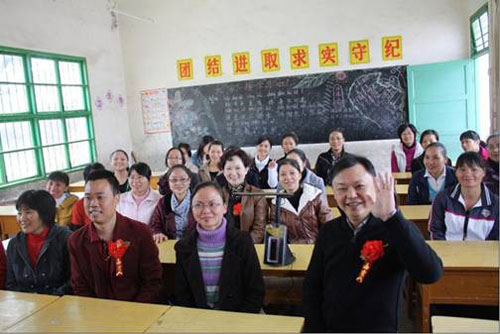 Scene of Donation
This donation was organized by the Resource construction and Environment protection department of NDRC, alliance of National LED Lighting R&D and Industrial departments, and Unilumin Technology Co., Ltd. Donating 253 LED desk lamps and solar energy flashlights to the teachers and students of mountain area. Mr Lin Mingfeng, CEO of Unilumin technology, said during the mutual-communication procedure," With this activity, we are happy because we realized our dream of promoting our products to the mountain district." Teachers of Gutian district replied, " After this activity, our teachers will try our best to establish the low carbon concept and improve the awareness of energy saving. By passing the concept of energy saving through students to families, and the whole society, energy-saving lighting products will really change our lighting environment and life quality, so as to live a low carbon life".