With the rapid development of economy and urbanization, outdoor LED displays have wide applications in traffic displays, shop window displays, building fa?ade displays, ceiling displays, rooftop displays, bus station displays, and more. However, when using outdoor SMD LED displays, most of advertisers have some difficulties in all kinds of costs, such as electricity bills, maintenance costs, transportation costs, etc.
For these problems, Unilumin state-of-the-art Usurface LED display has answers to above issues. And it sets a new standard of outdoor LED display.
Thanks to the advanced designs, Usurface could greatly reduce costs in six aspects, we call them "6 savings".
1. Saving power
Usurface's aluminum cabinet is with fan-less design, unique circuit design, more energy efficient. It reduces 40% power consumption compared to common outdoor LED displays.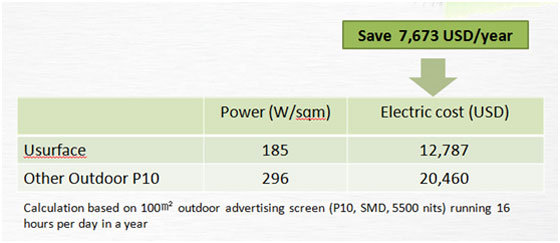 2. Saving structure
Usurface with aluminum cabinet is ultra slim and light cabinet, only 27kg/sqm of weight, depth of 95mm /cabinet. It is 50% lighter and 30% construction cost lower than conventional cabinet.
3. Saving space
Unilumin state-of-the-art Usurface LED display allows both front and rear maintenance. Its special front maintenance design creates a new application scale for the place of no rear maintenance space is needed.
4. Saving installation
Unique plug design makes its easy installation and high installation efficiency.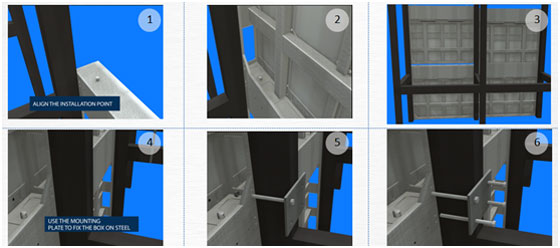 5. Saving maintenance
Usurface's IP68 of module and 360°waterproof test ensure it's strong enough to against extreme weather. So it is reliable for using a long time.
6. Saving transportation
Usurface's standard cabinet of 800×800,1200×1200 can easily fit more cabinets in a container. Its ultra slim & light cabinet could also save transportation costs.
What greatest advantages of Unilumin Usurface series LED display is its longest lifespan. It has unique cabinet design, IP 68 protection at module level, high-quality of PCB and strict material selection; all of these prolong the lifespan of Usurface that make it the longest lifespan outdoor SMD LED display.
All above are reasons why you choose Unilumin Usurface,saving cost and saving money for you.