We are delighted to announce that Unilumin's UpanelS has been nominated for Display Technology of the Year at AV Awards 2019. UpanelS is an industry-leading product with highly developed intelligent NPP technology that applies to a wide range of application scenarios.
As a narrow pixel pitch (NPP) LED display, UpanelS has advanced technical advantages, including no-splicing, high gray scale on low brightness, high refresh rate, and a standard ratio of 16:9, which ensures audiences stunning imagery and premium visual experience. It has also introduced to the world its pioneering intelligent design—a combination of non-touch maintenance, separate assembly of structures, and highly precise intelligent module. Having successfully helped business to increase profit by maximizing space utilization in small and medium-sized spaces and expensive office real estate, UpanelS has become a go-to product that enjoys great popularity among global LED customers.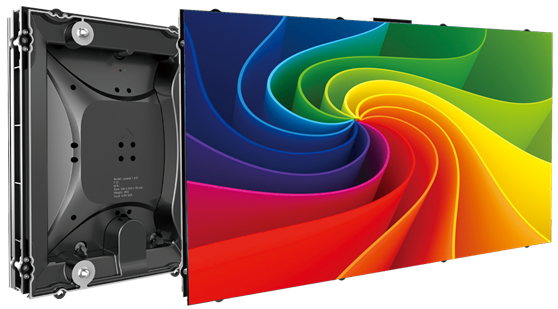 Outstanding HDR Technology
Thanks to the fine grayscale technology, UpanelS, the 18bit display, can achieve a more precise effect on the low gray level. UpanelS perfectly combines "better pixels" with "more pixels" by introducing HDR into 4K display and an even higher standard of display to meet the market's increasing demand for a more powerful visual effect. With HDR10-Optima & HLG technology that greatly enhances image quality and color calibration performance, UpanelS can create a fully immersive experience for audiences.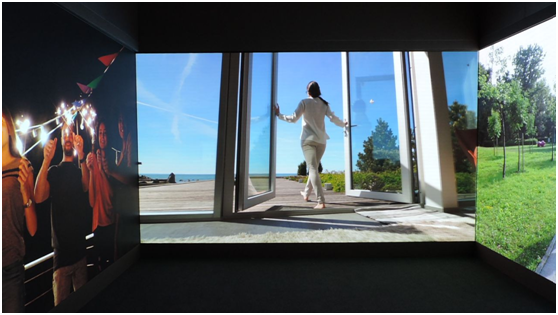 30sqm UpanelS1.2 in MAF Immersive Room Dubai
Pioneering Intelligent Maintenance
UpanelS has also made maintenance easier and smarter than ever. Conventionally, engineers need to carry a full box of tools, find the defective screen, and fix it when handling screen maintenance. UpanelS, however, makes things easier—the smart PC software sends a command to the screen and the defective module pops up automatically so it can be located and replaced shortly by an engineer. This can also avoid some terrible situations where, for example, engineers might leave the loose LED hanging.
Besides, UpanelS helps customers maximize space utilization in small and medium-sized spaces on account of front maintenance. When assembling a screen, traditionally, a lot of space between the screen and the wall has to be left for installation and maintenance. The costs of corporate real estate, therefore, are mounting. UpanelS can help customers reduce the expenses by improving space utilization with its newest front maintenance technology that requires no room between the screen and the wall. While reducing real estate costs, the model also saves time to install and repair—engineers, for example, can fix the problematic wiring or change a control card or a power supply that won't work right in front of the screen.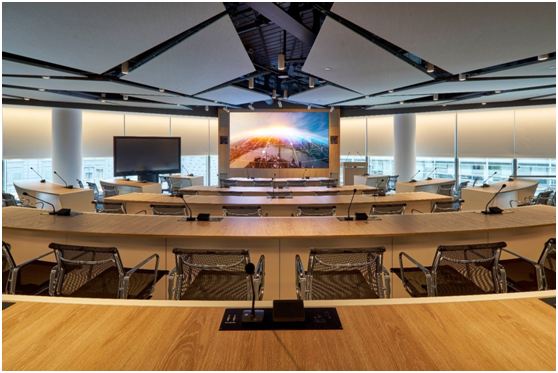 6x6pcs UpanelS1.9 in Dimensional Fund Advisors London
Groundbreaking Structural Design
Thanks to its industry-leading structural design, UpanelS enables simple, fast, and more importantly, cableless installation. Conventionally, the cabinet and the module have to be installed simultaneously, which might cause damage to the body by accidental external force. And the heat accumulated inside the cabinet accelerates the aging of internal components because of slow heat-dissipating performance. The innovative structural design that separates the cabinet and the module, however, can not only perfectly avoid impact on the cabinet or the module but also greatly accelerates the process of heat-dissipating, extending the durability of the product. At the same time, the special structural design enables UpanelS to remain stable during transportation and installation, which reduces the risk of damage. What's more, since there's no cable between the cabinets or between the cabinet and the module, customers can customize their UpanelS if they need a creative shape or size.
Commercial Success
UpanelS, the narrow pixel pitch LED display with outstanding overall performance, has been successfully used in a variety of application scenarios, including security, police, transportation, broadcast room, and conference room. As Pedro Jervis from IC television network and media puts it, "On a very positive note, the first graphics files were sent to the walls today and they looked outstanding, the end-customer was really pleased. By now, 57.5 SQM of Unilumin's UpanelS1.5 and 12.6 SQM of UpanelS2.5 were installed in the station successfully."
When talking about the cooperation with Unilumin, Robert Komakech, the technical manager from Kungl. Ingenjörsvetenskapsakademien (IVA), says, "We use the LED display (UpanelS) every day in the Academy's main auditorium. The product is stable and better in quality than our earlier display. The color and the brightness are cutting edge and perfect for any content. Our customers love it."
UpanelS has been widely recognized by a large number of global customers, such as Nike, Facebook, GMG, Schroders, EY, etc., not only because of the superior product quality but also because of the excellent customer service that Unilumin provides. As Marc Herriott from Property & Facilities Aviva plc says, "We have worked on two projects with Unilumin over the last few years (UpanelS1.2 in Aviva Drum, and UpanelS1.5 in Aviva Auditorium). The service and products provided have both been of high quality and good value. They also offer excellent support from offices in China and Europe, and we would certainly consider using them for any future projects."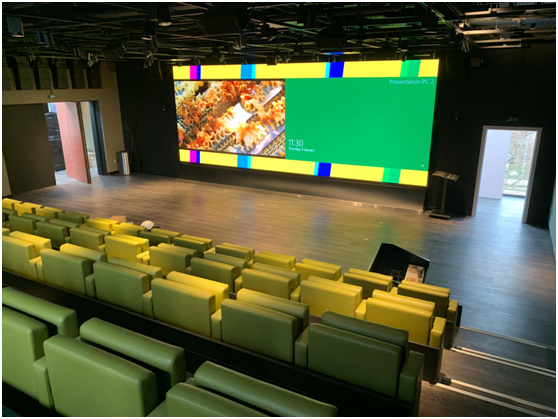 12x8pcs UpanelS1.2 in Aviva Drum London
For more information about UpanelS, please email us at sales@unilumin.com.