For several decades, the development path of LED video wall industry is full of ups and downs, and twists and turns. Amid global COVID-19 pandemic in recent years, LED video wall industry has been on a roller-coaster ride again and formed a pattern in which the stronger gets stronger while the weaker gets weaker. At a time when crisis coexists with opportunities, any company could reshape the competitive landscape in the coming future.
With the Recovery of Market Demand, Unilumin becomes the No.1 Seller
As 8K, next-generation Mini/Micro LED technologies came into vogue, LED video wall market tended to grow steadily before 2020. According to TrendForce's research data, the output value of global LED video wall market was around USD 6.3 billion in 2019, up by 8.5% compared to 2018. However, the COVID-19 outbreak has exacted a toll on the industry, leading to a decline in the market size of global LED video wall industry, and the overall output value was only USD 5.5 billion, down by 12.8% YoY. That year, none of the Chinese LED video wall manufacturers saw a positive growth in their financial results.
Fortunately, the market started to show signs of recovery in 2021. TrendForce's analysis pointed out that as the vaccination rate increased worldwide, national governments put incentive policies in place and events got back on track such as commercial activities, sports events and large-sized activities, LED video wall market demand enjoyed exponential growth, driving global market size to increase more than 23% YoY to USD 6.8 billion.
In this context, industry concentration further increased. As TrendForce's research data showed, top ten global LED video wall manufacturers' market shares grew to 71% in 2021, which was expected to continuously improve this year. And notably, with the expansion of Chinese domestic demand, nearly 40% of global LED video wall demands centers on Chinese market.
Meanwhile, the phenomenon of Matthew Effect has been more obvious. It can be seen from the 2021 financial results of Chinese public listed companies that the overall shipment of five main LED video wall makers amounted to more than 1,600,000㎡, among which Unilumin contributed 814,550.04㎡, comprising over 50% of total shipment and ranking first out of all LED video wall listed companies. The company's sales volume from 2017 to 2021 proved that its product sales mushroomed in 2021 with a remarkable growth rate.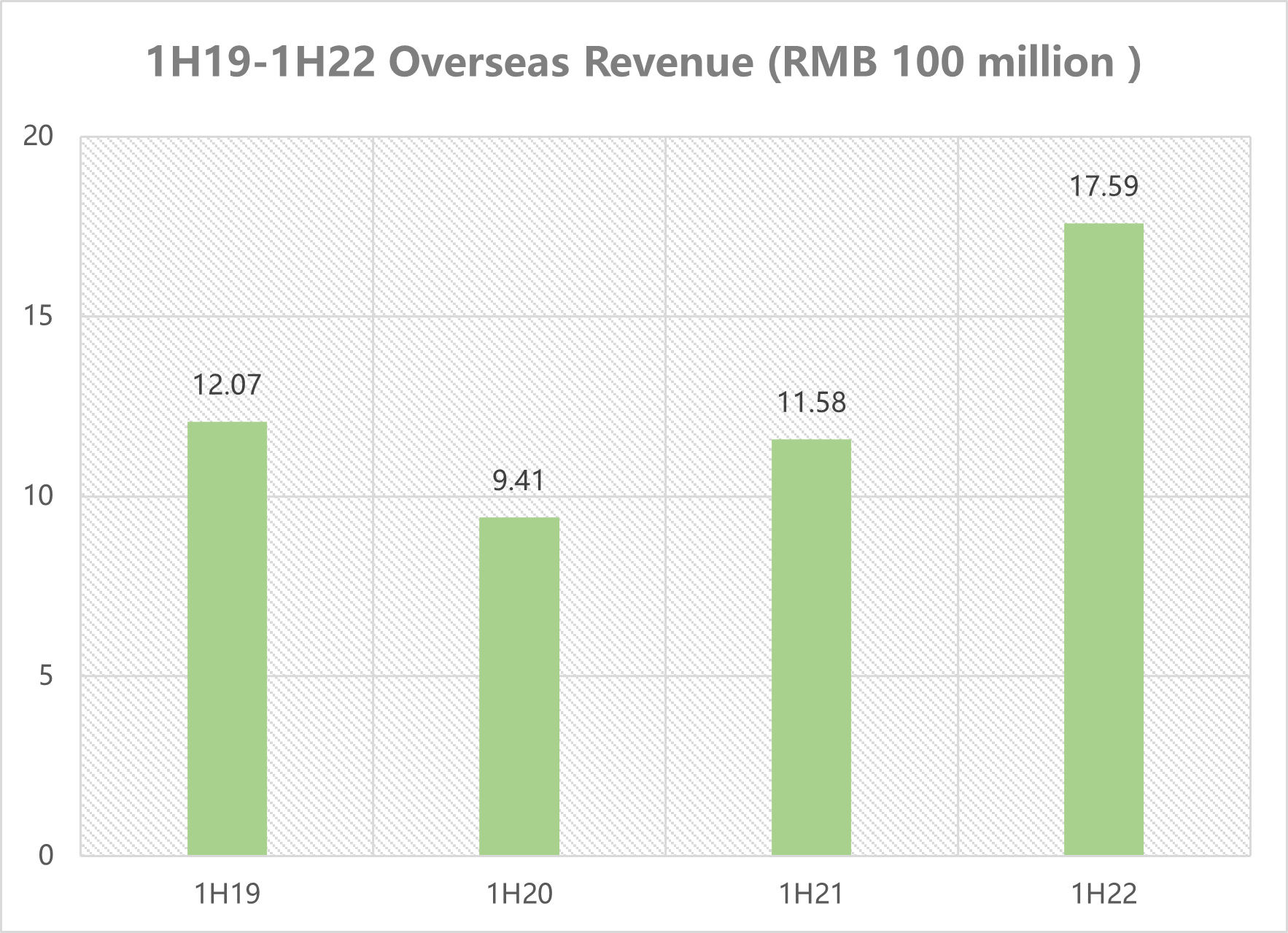 As Emerging Applications Infuses Vitality into the Market, LED Video Wall Manufacturers Create "The Second Curve"
Looking into the future, LED video wall market will continue to go at full throttle in any stage. Before the COVID-19 outbreak, high resolution, high contrast ratio, high refresh rate have become new features of LED video wall. After the pandemic, stay-at-home economy seeded and catalyzed nascent forms of business including online education, smart healthcare, intelligent transportation, home theater and
virtual live streaming room, etc. Under such circumstances, LED video wall industry quickly entered an intelligent, ultra-HD and digital era. Fueled by the development of various new applications, LED video wall industry will have more opportunities for further growth.
According to TrendForce's research, global LED video wall market demand is less robust due to the Russia-Ukraine conflict and the runaway inflation, but on balance, video wall market size is still expected to edge up to USD 7.229 billion in 2022 (+6% YoY). In respect of market opportunities, high-end corporation and education, home theater, virtual production, retail, rental event, sports event and government tender will become market growing impetus.
Against this background, xR virtual production, all-in-one LED display, LED cinema display and outdoor autostereoscopic 3D display start to strike into a stage of rapid
growth. Take xR virtual production as an example. TrendForce's latest report showed that the market size of global LED video wall for virtual production was around USD 283 million in 2021, representing a significant increase of 136%. It's estimated that its market output value will steadily rise to USD 431 million in 2022 with a year-on-year growth of 52%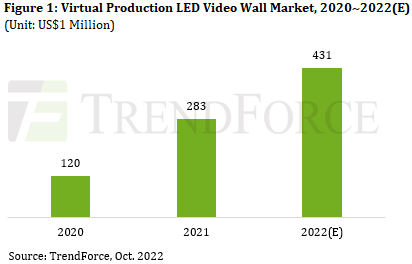 Following the emergence of new technologies and new applications, greater market potential can be tapped. Given that new LED video wall fields have a promising future and macro economic environment gradually picks up, LED video wall manufacturers will be well positioned to give full play to their potential.
In the financial reports of 2021 and 2022, new business like xR virtual production and autostereoscopic display has indeed become the highlight of all LED video wall companies. Built on their keen insight and forward-looking development, LED video wall leading players have created "The Second Curve".
Moving forward Fast Based on Steady Development, Unilumin Hold the Key to Success in the New Era
In the emerging application fields of LED video wall, Unilumin has a say to speak, particularly in virtual production market. On the market share of supply chain, ROE Visual, a subsidiary of Unilumin, captures the largest occupation rate; other players contain INFiLED, SONY and AOTO, according to TrendForce's survey.
As of the first half of 2022, ROE Visual have built a vast body of international virtual
film studios, such as PXO&WFW Virtual Studio in Vancouver which set the Guinness World Records and ILM StageCraft Virtual Studio which produced The Mandalorian.
Also, ROE Visual is actively promoting its virtual production solution in Chinese market. It has successfully finished its first project in China--BLUEBOX XR Studios has been built in the first half of this year. With effective market exploration, ROE Visual delivered revenue of RMB 818 million (+51.52% YoY) in 1H22.
Aside from xR virtual production, Unilumin is gathering steam in LED cinema display, outdoor autostereoscopic 3D display and smart sports display sectors.
In LED cinema display market, UC-A41 LED display, jointly developed by Unilumin and China Film Science and Technology Research Institute, gained the DCI
certificate of Hollywood in May, 2021. And this LED cinema display has gone into service at China Film International Theater (Beiao Theater) in July, 2021. Currently, the company has joint hands with international leading companies in film system industry and Chinese film pioneers, securing several orders of virtual production LED display solution.
In autostereoscopic 3D display market, Unilumin's LED metasight solution has created a new landmark in multitudes of cities, like the 7000㎡LED screen with autostereoscopic 3D innovative contents provided for Riyadh Season in Saudi Arabia. In Chinese market, its products have been used in different applications covering CCTV Spring Festival Gala, national ceremonies and the opening ceremony of sports events.
In sports display market, Unilumin has been recognized as one of the LED video
wall suppliers of world-class events such as Winter Olympic Games and World Cup. For instance, Unilumin offered two LED score screens totaling 70.78㎡ to Lusail Stadium and installed a total of 3600㎡ LED video wall and integrated solution in different places outside the stadium during 2022 World Cup.
Despite the influence of COVID-19, Unilumin continued to maintain solid growth. Even in 2020 when the industry was largely impacted, it was the only LED video wall listed company to remain profitable, and its overseas business began to recover since the second half of 2020. In the first half of 2021, Unilumin's revenue surpassed that in the same period of 2019 before the COVID-19 outbreak and kept growing in the first half of 2022. Unilumin explained that its growing momentum came from overseas market, which aligned with the development trend of LED video wall in overseas market.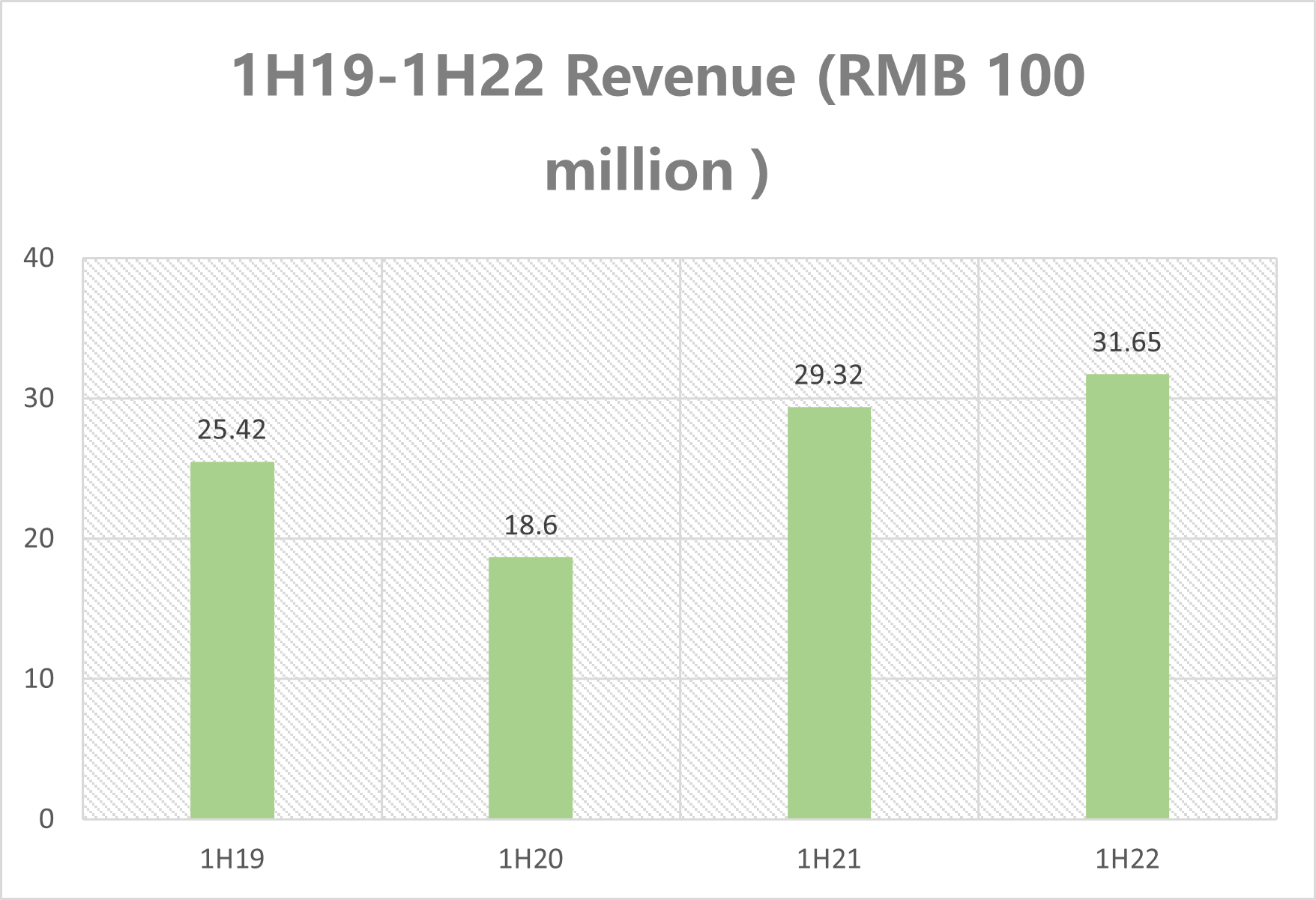 According to TrendForce's research data, the growth rate of North American and European markets is much higher than average, driven by an economic turnaround. In this context, Unilumin's overseas revenue for the first half of 2022 came up to RMB 1.759 billion (+51.87% YoY), the highest over LED video wall listed companies.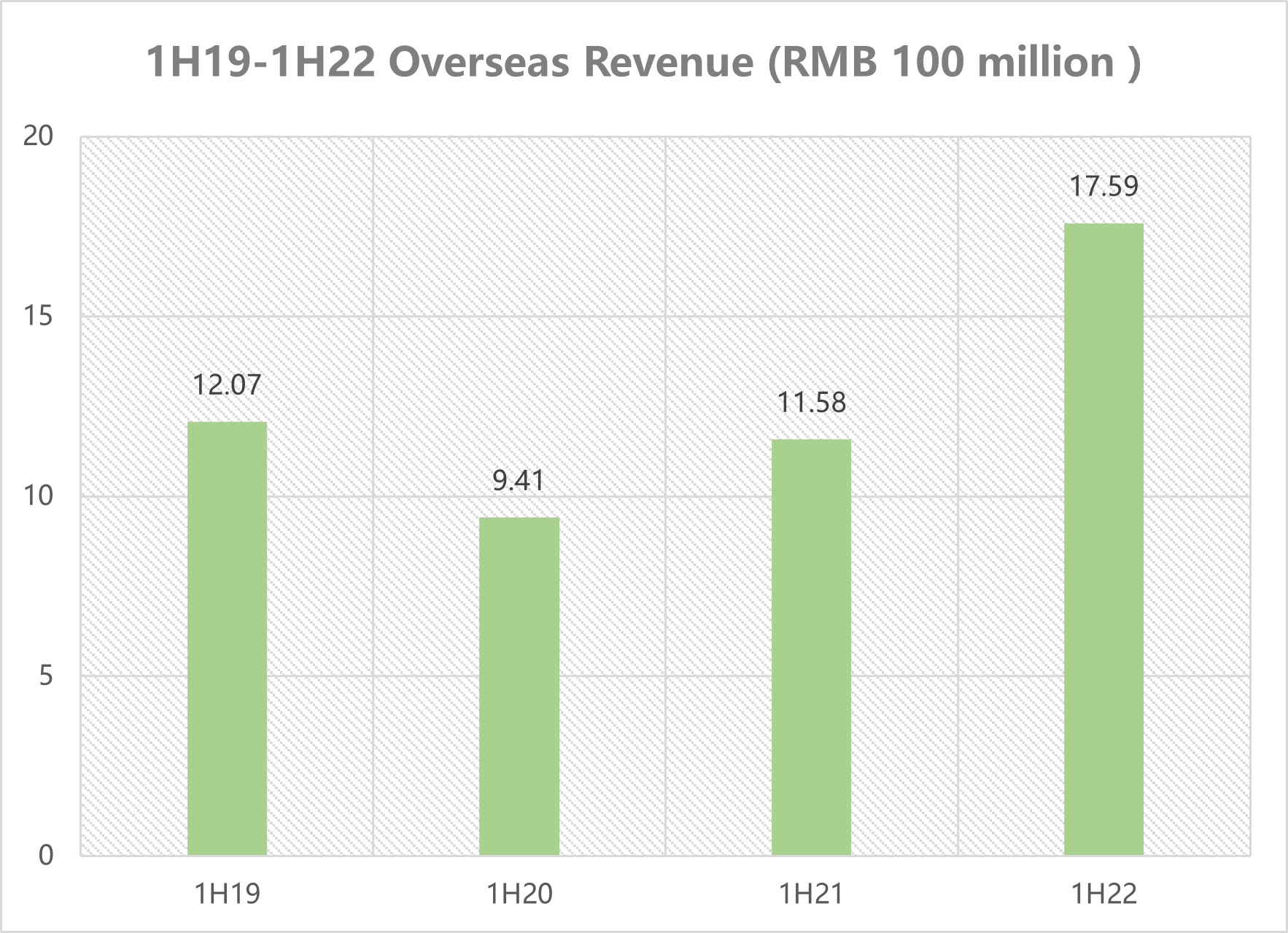 For the first nine months of 2022, Unilumin's revenue and net profit increased synchronously: revenue reached RMB 4.915 billion (+1.71% YoY) and net profit RMB 254 million (+22.44% YoY) .
Summary
It's clearly that overseas LED video wall market demand is on the rise again. Chinese market will recover with the implementation of new preventive measures
and all kinds of commercial activities, recreational activities and sports events will be back on track. Conceivably, global LED video wall market will enjoy a new round of strong demand and those start early and move quickly will bear fruit soon.
On the strength of five production bases, Unilumin has already braced up itself for meeting new demands. Given its business development, production capacity scale and business performance, Unilumin is poised to improve product sales, market shares and company profitability, further strengthening its leading position in global LED video wall market.
Author:Janice