Unilumin applied the P7.62
indoor LED display
to celebrate the 60
th
anniversary of the League of Air Force Mission of Political Literature; the display is another classical project after the P16 outdoor display for the 60
th
anniversary of Chinese National Day.
Founded in 1950, the league of air force mission of political literature is a group with good reputation and long history. In recent years, the league have produced and performed a lot of excellent stage plays and parties in the subjects of loving life, loving our homeland, loving the C.P.C to highlight the themes of times and carry forward the economical and cultural development.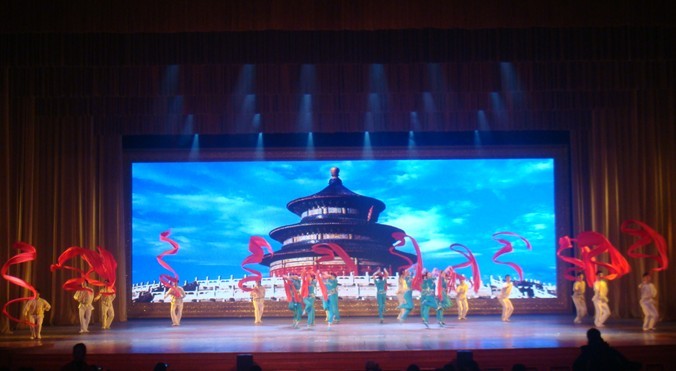 During this celebration, Unilumin has the opportunity to provide the P7.62 indoor advanced display with 3528 SL chip in the middle of the stage, the total area of the main screen was 102.7433sqm (17.56L*5.85H), and the P12 indoor display was used on the both sides with 200sqm. To keep the picture quality and the effect of living broadcast, the P7.62 display was adopted advanced color and brightness correction and two spare systems. Many political officers watched this party and were deeply impressed the high-definite and fluent scene of the display which was given high approval.
Picture of the indoor LED display
Features:
1. adopting color and brightness correction , color constancy
2. applying two spare systems to keep the display operate properly
3. limited producing and installing time without any mistakes
4. rigid distinction of rank in installation place
Technical Parameter