Why choose flexible LED display screen?
Features of Unilumin flexible LED displays
Unilumin flexible LED display screen cases gallery
As technology has evolved, digital advertising has had to continually reinvent itself. That's when a flexible LED display screen became one of the most preferred solutions for advertising and entertainment because flexible LED display offers a wide range of design possibilities. With flexible LED displays, buildings look more unique, and advertisement more attractive.
Why choose flexible LED display screen?
Flexible LED display series is the informational display for businesses. It combines flexibility and user control with a sleek look and impressive picture. The flexible series is a stylish upgrade for any user, from the shopping center, airport flagship stores, and any place that reviving an icon.
Compared to a traditional flat LED screen, flexible LED display screens can be customized to create all kinds of attractive and unique irregular shapes, such as circles, columns, ellipses, triangles, etc., naturally integrating with original shapes and designs of buildings. With an aesthetic and practical design, flexible LED displays present as architectural decoration, as well as the advertising screen, increasing the popularity of the location and advertisement.
Features of Unilumin flexible LED displays
​
Unilumin, driven by technology and innovations, contributes itself to delivering high-quality, high-performance LED products and solutions to customers around the globe.
​
Unilumin has a professional team with a strong engineering background and extensive experience in flexible LED display screen design, production, and installation. With its high quality, reliability, and efficiency, our products and services have received good comments all around the world.
1. Design possibilities
The Unilumin flexible LED displays offer a wide range of design possibilities through innovations in curve, depth, weight and power supply. The modules can create irregular shapes, such as circles, columns, ellipses, triangles, etc, allowing screens to wrap around architecture or be styled into interesting shapes. A slim depth of modules allows for flexibility of placement and a sleek look; the full installation depth is only 45mm. Reduced weight of 8kg per square meter allows for more a varied installation.
2. Easier installation
Unilumin's frameless flexible LED displays bring down installation cost and the risk of damaging architecture. Its transparency is up to 70%-80%, people inside of building still can enjoy window view and sunlight. It also can meet demands of large scale installation more easily.
Both front and rear services are available. This means no matter where you install your flexible LED display, it will require less time on-site for installation and repairs.
3. Brighter, lower power consumption
Our flexible LED display products achieve a high brightness of 7,500-12,000 nits, and low power consumption of 120- 150w for per square meter on average. Compact cabinet design and reduced power consumption provide more cost-effective solutions, saving you money and resulting in a greater return on investment.
Unilumin flexible LED display screen cases gallery
​
1. Jinzhai Guihua Park Moon Shape Screen Project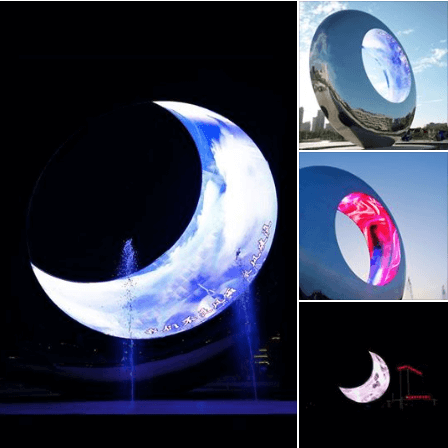 Jinzhai Guihua Park is becoming increasingly popular after installing Unilumin flexible LED display in a creative moon shape measuring in 288 square meters. With an aesthetic and practical design, this screen presents as architectural decoration, as well as a creative advertising screen. It is marked that the combination of flexible digital screen technology and contemporary design is a successful attempt to bring public art closer to life.
2

.

Gorizont Shopping Mall Project
​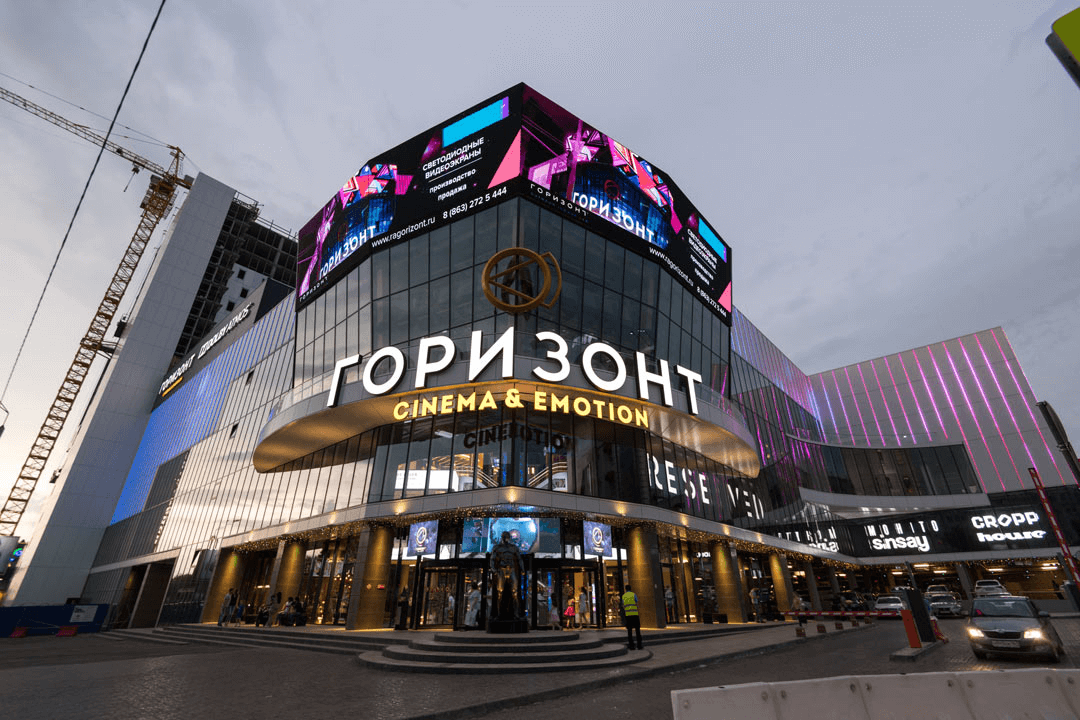 When you are trying to attract the attention of the audience with content on a display screen in a city overflowing with video screens, you had better have a solid plan along with an even more solid display­ - ­­flexible LED display.
Unilumin R&D engineers collaborated with Gorizont LED designers to create unique cabinets with modules in different shapes and sizes, which are perfectly matched with the irregular shape of the building.
" Because the shopping mall was still under construction, the customer had a constant change with building structures, and this created a big barrier for our screen designing. During the process, Unilumin showed a high level of specialty, efficiency, and pursuit of high-quality work. And they completed the project without any delay." Mr. Roman, the director of the Gorizont commented. This screen helps Gorizont become a landmark.
For more information about Unilumin flexible LED display solution​ please contact us at sales@unilumin.com.